When I first saw the trailer for The Cursed Crusade, I didn't know what to think. It had awesome combat and reminded me of a love child between Assassin's Creed and Demon's Souls. But just watching epic combat in a trailer is different than experiencing it yourself. I am happy to say that after getting some hands-on time with it during our meeting with Atlus it does not disappoint.
Our co-op demo opened with action as we were ambushed and had to face our enemies using the brutal combat system that combines weak attacks, strong attacks, kicking, and your choice of using a single weapon or dual-wielding to bring the hate down on your foes. Time your attacks well, and you will string together combos and finish with a brutal kill that resorts in the maiming and dismemberment of your enemies. Fail to do so and just mashing buttons will resort in you getting over powered and eventually killed.
Both players also have access to a crossbow on their backs to take out archers from afar. The last arrow I fired went into a follow the arrow cam as it passed through the enemies skull. It should also be noted, however, that weapons you carry do degrade as you use them. But worry not as you can pick up any of the weapons that the opposing forces drop. These can be mixed and matched between your left and right hand to maximize your killing power.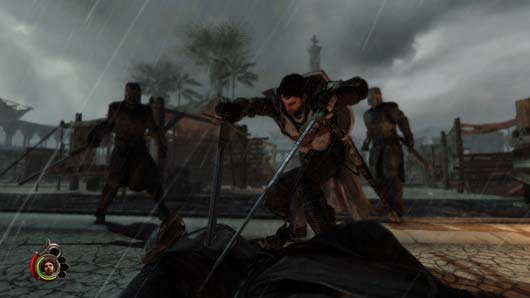 While we only viewed the Templar's Curse mode for a few seconds, what we saw was pretty awesome. Activating the curse brings new sight into the world and turns it into a hellish alternate version of the level you are playing. The curse enhances your speed and attack power but slowly drains your health while it is active. If you happened to be downed the game automatically switches into the curse view and has you searching the area for Death and fending him off so your partner can revive you. Wait too long, and its game over and you must restart from the last checkpoint.
At the end of our demo, I was left wanting to play so much more. It was fun, addicting and had brutal combat that always feels fresh and new due to the vast amount of various weapons that are 9in the game. I for one am definitely looking forward to picking it up when it releases later this year. Look for our review later this year when the game releases.
E3 2011: The Cursed Crusade Preview

,