Bethesda really showed off their open world expertise at E3 this year. Rage, Skyrim, and Prey 2 are all ambitious open world titles giving players ultimate freedom in how they play. During the Prey 2 demonstration, it became clear how much control will be put in players' hands.
Prey 2 opened up with our lead character, Killian Samuels, finds himself lying amongst the remains of a burning airplane. The action quickly picks up with aliens assaulting Samuels' position. Being an air marshall, our character has a gun equipped to fend off the attack. Here we see the first person cover mechanic come into play. If you've played one of the next-gen Killzone titles, then you'll have some idea of how this feature is used in Prey 2. The only difference here is that Prey 2 seems to have nearly perfected the idea, allowing for smooth and responsive actions while entering cover or firing from it. The player is able to transition from blind firing to iron sites (and vice versa) effortlessly. Unfortunately, although Samuels put up a good fight, he was overcome and knocked out by his pursuers.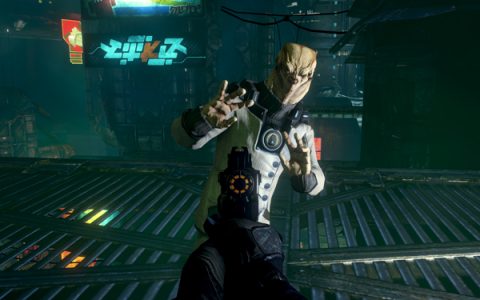 The demo fasts forward a bit so we can get a look at how missions will play out later on in the game. As we catch up with Samuels, its obvious that he has adjusted to the new life and is better equipped (as can be seen by the alien weaponry he carries). At first, it looked like he was taking on a mission during nighttime, but, as it turns out, the sun doesn't move positions on this planet. One side is always sunny while the other remains dark. With the open world environment it'd be hard keep track of every possible bounty, but thanks to the Bounty Wire players can always keep on top of any available jobs. Another crucial piece of equipment is the scanner. Utilizing his helpful scanner, Samuels can analyze people/events to find hostiles, possible bounties, and further assess situations before acting. The scanner located the target bounty and turned his body into a blue silhouette. Red outlines could be seen standing around the target, informing us of his personal guards. Players are given the proper tools to learn every aspect regarding their target to choose the best possible path in subduing them that they see fit.
To get things started, Samuels needed to locate his target. Luckily, there are contacts that have this very information. This contact in particular that we saw wanted 2,000 credits in exchange for the location. Only having 1,300 credits was now a problem. Fortunately, there are other ways to get what you want. By killing the contact's guard, we found him a little more willing to talk without compensation. This is one route that can be taken, but players must be careful in who the mess with because it could come back to haunt them. With the information obtained, it was time to pay the bounty a visit. The scanner revealed his whereabouts in a bar. It just so happens that the bounty's lieutenant was outside harassing a civilian. He made the perfect human shield and a decent tool for negotiation. However, his life was deemed expendable as the bounty opened fire and blew his head off. All the sudden, he wasn't so useful. The chase began.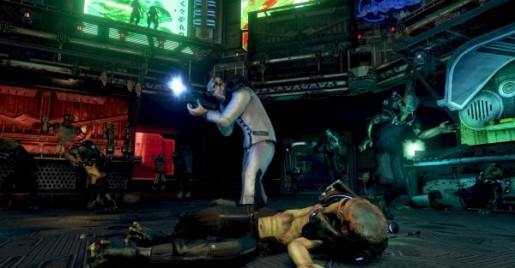 Using some flashy maneuvers and quick wits the guards were disposed of. An entire group was annihilated through the simultaneous use of firearms and shoulder-mounted rockets. Now it was time to put the free running center stage. Samuels jumped, climbed, and slid through several obstacles, never losing sight of his target. At one point, the hover boots were shown off which made exploration and traversing the environment even easier. With the target alone it was time to turn him in…or was it? The bounty promised 300 more credits than was being offered to turn him in. Ultimately, the choice is up to you, but for our demonstration the good path was taken. Choosing to double-cross your client can have sever repercussions.
At the end of the demo, I couldn't help but sit there in awe of what I had just seen. The environments and characters we were shown were reminiscent of Mass Effect's Afterlife club. As for the parkour, it was Mirror's Edge 2.0. The game is packing so many different features into this open world title and it looks to be paying off.
Overwhelmed by amazement? Me too. However, this year is looking to be costing gamers quite a bit. Unfortunately or luckily (depending on how you look at it), this game will release on PC, PS3, and Xbox 360 next year.