For those blissfully unaware of the genius that is Divekick, all you need to know is that it's a tournament-balanced fighting game that doesn't need anything fancy like a joystick or even a whole mess load of buttons.
Originally planned as a Kickstarter-backed project has instead grown into a full featured diving and kicking-based fighting game. The typical staples of fighting games are most likely going to be present: single player campaign/story mode, unlockable characters, online leaderboards. All of this will be wrapped up nicely in a definitive release of Divekick with a robust online community backed by GGPO's award winning framework.
And the controller you need for this bad boy? If Mad Catz has any say in it, we could see a full like of Sanwa based sticks endorsed by Mike "Worth his weight in salt" Ross and Daigo "The Beast" Umehara.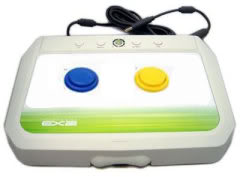 Kudos to Star-Demon on the Dustloop forums for the controller mockup.
DIVEKICK TO DEBUT IN SPRING 2013
Iron Galaxy Studios announces plans to release the one true fighting game on numerous platforms

CHICAGO – January 22, 2013 –Iron Galaxy Studios is teaming up with One True Game Studios to release Divekick, a unique fighting game available in spring 2013 for PlayStation®3 computer entertainment system, PlayStation®Vita handheld entertainment system and PC.

Initially developed as a parody of fighting games by Adam Heart, the Editor-in-Chief of Shoryuken.com, Divekick gained notoriety in the community for its surprising depth and lack of a control stick. Divekick's two-button controls and precise timing soon made it a staple in competitions. Shortly after its debut to long lines at Ultimate Fighting Game Tournament 8 in May 2012, Heart wanted to bring the game to a wider audience and launched a Kickstarter campaign in June 2012 to finish its PC release. The campaign reached its funding goal in less than one month.

After seeing the success of Divekick's Kickstarter campaign and the excitement generated at fighting game tournaments, Iron Galaxy fell in love with the game and offered their assistance and development expertise (Street Fighter III: Online Edition, Marvel Vs. Capcom: Origins, Darkstalkers Resurrection) to bring Divekick to a broader audience and help realize its full potential. The fully-funded Kickstarter was cancelled, and the new collaboration has resulted in the game being equipped with GGPO-powered online support, a fully-fledged single-player campaign, and many other features.

"Once I played Divekick, I knew I had to steal it from its creator and reap the benefits for myself," said Dave Lang, President of Iron Galaxy Studios.  "I look forward to seeing Divekick Cyber Athletes on cereal boxes in the near future."

One True Games Studios is led by fighting game experts including Adam "Keits" Heart. "Divekick is good at two things: teaching some of the basics of fighting game to players of any skill, and ending friendships. I partnered with Iron Galaxy because I know they love these things as much as I do.  They also gave me large burlap sacks filled with cash, which certainly didn't hurt," said Heart. "This game was made by the community, for the community, to completely tear apart the community."

Iron Galaxy began as a small team of industry veterans working out of their basements in 2008, and has grown into a fifty person technology powerhouse with studios in Chicago and Orlando. With multiple titles shipped across all current console, PC, and mobile hardware, our clients and partners rely on Iron Galaxy's expertise and track record to execute their most trusted brands.

"PlayStation" is a registered trademark of Sony Computer Entertainment Inc.