Moogles in the Final Fantasy games has been the series' most iconic figure since their first debut in Final Fantasy III. For hardcore fans of the series, they might notice that Moogles have gone MIA since thier last appearance in Final Fantasy XII. After years of their disappearance, the Moogle is back in Square Enix's Final Fantasy XIII-2.
At every Final Fantasy game that there's a Moogle, they carry a specific purpose in the game (they can help the player in saving the game's data or simply have their own shop). In Final Fantasy XIII-2, the Moogle named MOG will play a vital role in shaping up the game's story.
At the demo that Square Enix showed to us this week at the E3 show floor, Serah, the sister of Lightning in FFXIII was found carrying a Moogle around her. Since the publisher doesn't want to reveal on how Serah got her Moogle, the publisher told us some new things about it.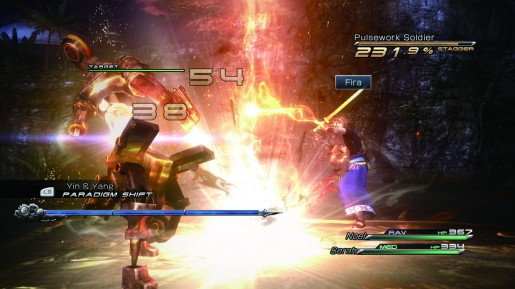 As I mentioned earlier, Mog will play a vital role in Serah's adventure. During battle, Mog the Moogle will have an ability to change into weapons that Serah can use such as a bow and a sword. When not used in battle, Mog can be used on the field by scanning the dungeons with monsters and will provide a Mog Clock.
Whenever Mog turns into a Mog Clock, players can see a clock timer at the bottom of the screen. The needle in the clock will turn into different colors as the time runs out. If the player fails to attack the enemy and the Mog Clock clock made it's full turn, the enemies will attack the player in an aggressive state. To avoid the enemies, simply run away from the radius of the Mog Clock.
More details about Mog will be revealed soon. We so would love to find out how Serah managed to snag a Moogle.