Dark Souls is the spiritual sequel to the award-winning Demon's Souls that was released in North America a few years ago by Atlus. Following Demon's Souls wild success, From Software brings us another brutal game in the form of Dark Souls.
This year at E3, one of the games that everyone has been talking about is Dark Souls. The game will feature controls similar to those of Demon's Souls, so fans of the first game will feel right at home. At the beginning of the game, players will have to choose from different character classes. If you're a veteran of Demon's Souls and you already have a build that you really love, you can use the same one in Dark Souls.
One of the things that everyone loves and hates about Demon's Souls is its extreme difficulty. The demo we played of Dark Souls featured a huge dragon that took up the whole screen. Just as in Demon's Souls, players have two choices; they can either kill the dragon or find a way through it. Facing the dragon isn't really necessary, as there are multiple pathways to take. Whenever the character feels that they have the power to face the Dragon, then that's the time they can finally take it down.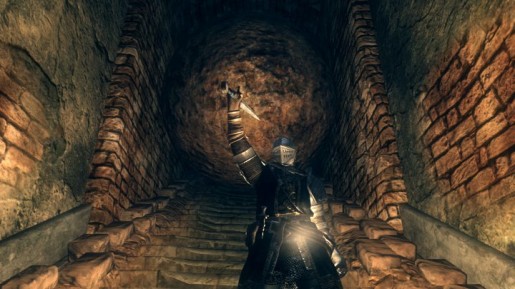 Instead of a home base where players respawn after getting killed, a Beacon of Fire will be there to bring us back to life. The story behind the Beacon of Fire wasn't exactly explained in the demo, but a Namco Bandai representative said that it will replace the Nexus. The Beacon of Fire will be the player's portable save point and a way to gather allies. Online play was a huge feature in Demon's Souls, and we're glad to see that it's back in Dark Souls.
To help each other in the world of Dark Souls, players can leave messages that give them hints about what to expect. Like in Demon's Souls, players will find the messages essential in order to proceed through the levels. Before encountering big bosses in Dark Souls, players should find a note on the floor that gives them hints on how to take them down. Another way to make the game a lot easier is by joining other players in their world. The co-op multiplayer mode of Dark Souls is pretty much the same as Demon's Souls. Simply put the stone on the floor and let other players pick it up and join you.
There are a lot of possible ways to play Dark Souls. The representative of Namco Bandai stated that Dark Souls is meant to be played more than once. Expect our review of Dark Souls as we head closer to the release date this October in North America. Stay tuned.
E3 2011: Dark Souls Promises to be Harder than Demon's Souls

,