2K Games has launched a racy teaser site prior to the release of Gearbox Software's Duke Nukem Forever entitled "Duke Nudem".
Upon visting the site you're prompted to give your age. Naturally, you must be 18 years and over to visit the site. The site comes in two modes – "Safe for Work" and "Not Safe for Work".
If you're wondering what this means it's because you will challenge 4 models to a mini game with a best out of three game of quick draw. If you hit the red targets faster than one of the sexy models, she will shed an item of clothing off just for you – it's much like a game of strip poker!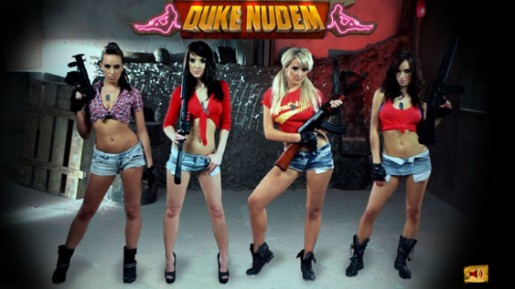 Bear in mind you will need quite a fast computer to play the flash-based game. If you manage to get a high score though, you can upload it via Twitter and Facebook and you can even download wallpapers of the 4 models – nude or nonude!
Duke Nukem Forever hits worldwide June 10th for the Xbox 360, PS3 and PC. North American gamers can expect to see the game on June 14th.