Red Faction: Battlegrounds is a downloadable title featuring vehicular combat utilizing the basic top-down, twin-stick shooter mechanics. This title hopes to bring the large scale destruction Red Faction is known for on a smaller scale playing field. Each battle sees the Red Faction facing off in various modes against their long time opponents, the Earth Defense Force. Seeing as how THQ Digital Warrington developed this title as a tie-in to the upcoming Red Faction: Armageddon, does the game fuel fans' hype for the next entry? More importantly however, does this downloadable title stand on its own and do the Red Faction franchise proud?
Let's take a look at the HOTs and NOTs.
HOT
Controls
Red Faction: Battlegrounds uses the dual analog stick controls that many downloadable shooters have used before (i.e. Super Stardust HD, Dead Nation). The controls work well for what is required of the player. Turning is sharp and responsive (with the proper vehicle of course) and weapons are easy to aim. Each vehicle reacts as you'd expect with Miner ATVs able to drift around corners with ease while tanks and MLRS are more sluggish but pack a bigger punch. Regardless of which vehicle you use they aren't hard to control thanks to the simplistic but effective control system.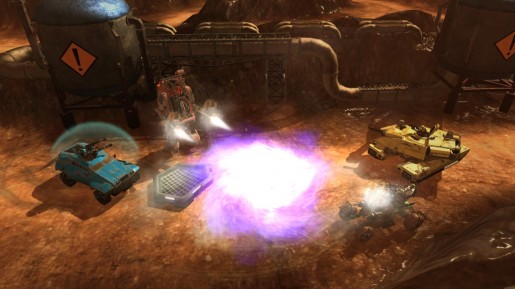 NOT
Single Player
I'm not sure I can justify Battlegrounds' offline experience as a single player one. The game offers 16 single player levels in the form of training missions. There isn't a story or any real dialogue to inform you of your goals. The training missions are basically there to let you become more familiar with the game before moving on to multiplayer. By completing these training exercises you can promote your soldier through the ranks and unlock more vehicles/weapons to be used in multiplayer. That would be fine if the experience itself was anything substantial. The training missions are made up of 4 game types which make you battle not only other vehicles, but the clock in order to grab the gold medal. These include Speed Trial, Shooting Range, Survival, and Annihilate. Speed Trials has you racing around the maps to grab highlighted flags as quickly as you can. In Shooting Range players must destroy the sets of mines that will pop up much like the flags, only these are explosive and can cause damage if your vehicle is too close. Survival is as straight forward as it gets. Swap out the mines in Shooting Range for other vehicles that'll shoot back and you have Annihilate. When you really look at the big picture here there is very little variation between the modes. This becomes painfully obvious as progression through training is made. Not to mention with the maps being so small everything falls into a predictable pattern. During numerous Survival missions, I didn't even move my tank from the starting position and still found it extremely easy to surpass the gold mark. The single player simply doesn't provide enough, especially since it can be completed easily under an hour.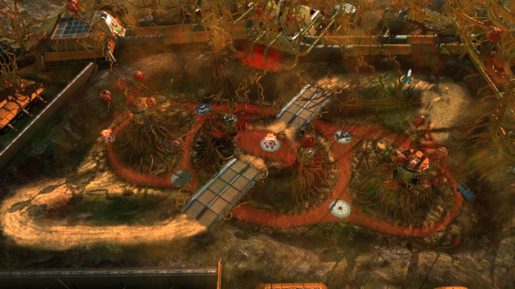 Multiplayer
Seeing as how the single player suffered due to bland mission design and repetitiveness, one would hope that multiplayer would make up for it and balance out this title. I'll tell you right now that's not the case, but I'm sure you already knew that seeing as how we're well under the "NOT" line. Multiplayer is made up of 5 modes: Deathmatch, Team Deathmatch, King of the Hill, Capture the Flag, and Flag Frenzy. All of these can be played with others either online or offline (too bad you won't have a reason to do so). These are your run-of-the-mill modes that are in nearly every game with a competitive portion. As you can imagine Capture the Flag and Flag Frenzy have vehicles gunning for flags and returning them to a specified point. King of the Hill selects an area in which players will try to hold while fending off other players. It would be fun if the selected area moved so that people weren't just bombarding the same section of the map the entire match.
It's one thing to have uninspired game modes online, but what happens when the online containing these modes doesn't even work properly? It flat out sucks, I'll tell you what. During my online sessions, I was dropped on a semi-consistent basis due to connection problems and saw my fair share of vehicles simply vanish on the battlefield. These are the big ones, but there are various minor glitches that don't aid the game at all.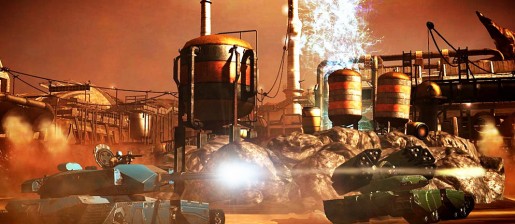 Price
Usually you wouldn't see too many gamers complaining about a $10 price point for a downloadable title, but Battlegrounds is an exception in this regard. With repetition running high early on most people won't be able to go back to this game after their initial experience. To justify taking $10 from gamers, one would hope that there would be much more variety so that we felt compelled to come back and try out every aspect the game had to offer. That just isn't the case here.
Verdict
Red Faction: Battlegrounds had a lot of potential to be solid downloadable entry for the franchise, but it didn't come close to reaching the standard the series carries. The title feels more like a cash-in than a tie-in and I'm sure more gamers besides myself will forget that they are actually playing a Red Faction game during their time with the game. Neither single player or multiplayer do much to draw players in or promote any replayability. The control scheme is tight and responsive, showing some of that promise of what could have been, but great controls mean nothing if you have no incentive to pick up your controller. For those who were questioning this title, it is best to avoid it and save yourself $10. Instead, use that money to pre-order the next REAL Red Faction title that comes out later this year.