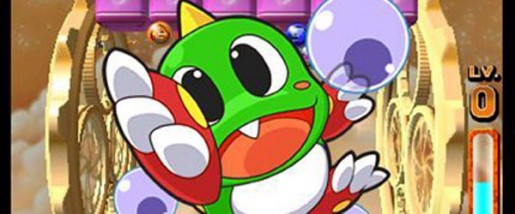 The Bust-A-Move series has been popular among gamers for over a decade, and yet it never fails to give players the satisfaction they crave when they successfully solve a puzzle. Today, Bust-A-Move still offers the same type of gameplay, and with the release of the Nintendo 3DS, another Bust-A-Move title is upon us. Bust-A-Move Universe is the first in the series that goes into 3D. With the Nintendo 3DS now available and with a short list of games to choose from, should players consider picking up this title?
Bust-A-Move Universe is a puzzle game that will be familiar to most gamers. What should fans of the series expect? Let's take a look in the HOTs and NOTs of Taito's Bust-A-Move Universe review.
HOT
Fun as Ever
The fun and excitement of every Bust-A-Move game continues in this new addition to the series. For veteran players of Bust-A-Move, Universe is the same exact game that players have played in the past. The same concepts are there and thanks to the awesome controls of the game, it makes playing more enjoyable, as the aiming has been improved since the original. There are a total of ten levels that players can play through, and at the end of each level there's a boss fight waiting.
Players who are new to the series will find Universe to be easy to learn, but difficult to master. The goal of the game is to use the pointer to shoot bubbles of the same color in order to clear the stage. When the player clears the area before the timer runs out, the player then proceeds to the next round. At each level, there are bonus items that players can get that turn into bonus points. It's almost impossible to put the game down as it will have you addicted from the first stage.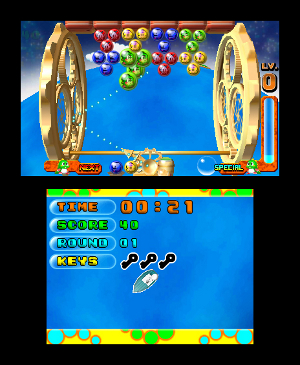 NOT
No Multiplayer and A Short Game
What kills Bust-A-Move Universe is that the game offers no multiplayer of some sort. The game does not make use of the Street Pass or its Spot Pass. It would be nice to see added content, such as new levels via the SpotPass, but unfortunately it can't be expected here. For a $29.99 game, it's disappointing to see that Bust-A-Move Universe can be finished in less than 3 hours.
3D Effects is Useless
While there are 3D elements in Bust-A-Move Universe, they don't stand out compared to other launch titles for the system. Sure, players can see them popping out, but it's not ground breaking enough to show the true potential and power of the Nintendo 3DS. While I was playing the game, I turned the 3D effects off after a couple minutes because I was unimpressed and didn't want to waste battery power on them.
Price is too High
For a game that offers nothing extra after finishing its ten levels, it would be fair to say that Bust-A-Move Universe is overpriced. Since the game offers nothing new of some sort, a $19.99 price point would be more reasonable.
VERDICT
Bust-A-Move Universe is a title that is hard to recommend to new owners of the Nintendo 3DS. If you've been playing Bust-A-Move games, you will be pleased to know that the core gameplay is still intact, but what it fails to deliver is replay value, length, and online capability. The current price tag of $29.99 is just too high for what the game has to offer. If you decide to pick the game up, expect to be addicted immediately, but you'll be left wanting more when you finish it in a few hours.
[Editor's Note: Bust-A-Move Universe was reviewed on the Nintendo 3DS platform. The game was provided to us by the publisher for review purposes.]