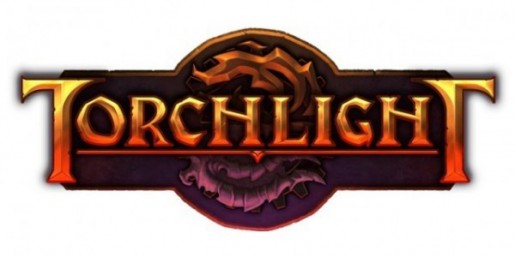 Torchlight is an action-RPG designed by some of the team members who worked on Diablo and Diablo II. The game was originally released for the PC back in 2009 with favorable reviews. Now the game had been ported for the Xbox 360 to download via Xbox LIVE.
Is this port of a two-year-old PC game worth playing? How does Torchlight differentiate itself from many other RPGs out there? Is this game even actually fun to play? Find out as we take a look at the HOTs and NOTs of Torchlight.
HOT
Character Design
The first thing I noticed when I started the game is how cool the main characters look. Although you cannot customize the appearance of your chosen character, the three you have a choice to pick from are memorable to say the least.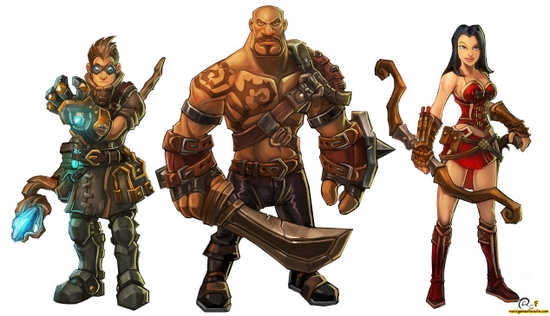 Your choices are the Destroyer, Vanquisher and the Alchemist. The Destroyer is a muscular dude that specializes in close-quarters combat. He looks like a bigger version of former WWE wrestler Stone Cold Steve Austin. The Vanquisher is a hot chick with long black hair armed with a bow and arrow. She specializes in long-ranged combat. At last, we have The Alchemist. He's a nerdy wizard who uses spells and magic as his main source of attacks.
It's this level of diverse character designs that I loved about the game even before I started playing it. Needless to say I chose to be the masculine Steve Austin lookalike solely because I'm a huge pro-wrestling fan…
Gameplay
Arguably, action-RPGs are more fun to play than turn-based ones. This is because you can control your character's movements and you're not limited to how many times you can attack an enemy at one time. Torchlight's gameplay is a mix between a hack-n-slash and RPG.
There are several dungeons that the player will have to explore riddled with lots of baddies that you will have to kill. The great thing about this game is that you're not limited to using only one type of weapon. Even though I chose to be the burly Steve Austin guy, he too can wield any weapon he manages to find and pick up. The plethora of weapons that are available at your disposal is pretty diverse. This includes swords (which he can also dual wield), axes, hammers, spears, handguns, shotguns and even a magic wand. This game hardly gets boring as there is always numerous different ways you can kill off your enemies.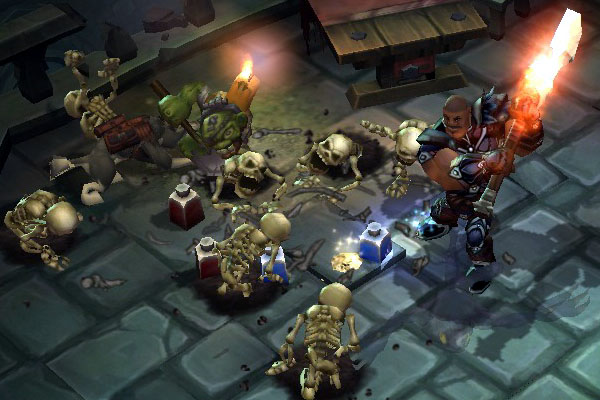 No need to buy items and weapons all the time
Much like with every other RPG, you have the option to explore the town to buy and upgrade your weapons and armor. Depending on what difficulty you play on, you may not need to visit the town at all. It's advisable that you visit the town to upgrade your equipment when you face up against harder baddies, but on the first few dungeons, everything you need is dropped by your enemies once you kill them. I was busy collecting pieces of gold at the time I did not even notice my character had already equipped himself with armor already. Not only that, but he also picked up some meaty swords for himself as well.
As aforementioned, the arsenal of weapons at your disposal in this game is immense. There's a lot of choices for the player to use but I stuck with the trusty dual sword method. Since my character is a melee attack expert he became very effective in clearing out swarms of enemies simultaneously.
Creatures
The creatures you will be facing are nicely designed too. They are far from looking pretty, but their designs are heavily inspired by those of the Lord of the Rings movie trilogy. There are Cave Troll-like creatures in the game called "Rock Trolls". Much like Cave Troll in the LOTR movies, this troll is over 10 feet tall and covers most of the whole screen. Also noteworthy are the giant spiders. They can also be just as huge as the trolls in the game. Luckily, they're aren't too hard to dispose of but I admired the amount of work that has been done to design the creatures in Torchlight.
You're Never Alone; You Have A Pet
Pets in games are usually kind of boring. You normally have to feed and take care of them all the time. In Torchlight however, your pet acts as your companion and will always help you during battle. This pet can be really helpful especially when you're facing a boss. Other A.I. characters from time to time will also help you out too. They are also programmed to fight and are very useful. This is a nice change from other NPCs in games that just stand there and expect you to do all the work for them…
NOT
Graphics
As impressive as the character and creature designs are, the actual visuals themselves are a tad disappointing. The graphics look more like they belong on the original Xbox in lieu of the HD capabilities that the Xbox 360 can handle. The environments and colors used in the game are flat and bland. They're unlike the shiny and glossy look we've become accustomed to in this generation. Other Xbox LIVE arcade games look awesome in HD and it's sad to see that Torchlight adopted a more last generation appearance.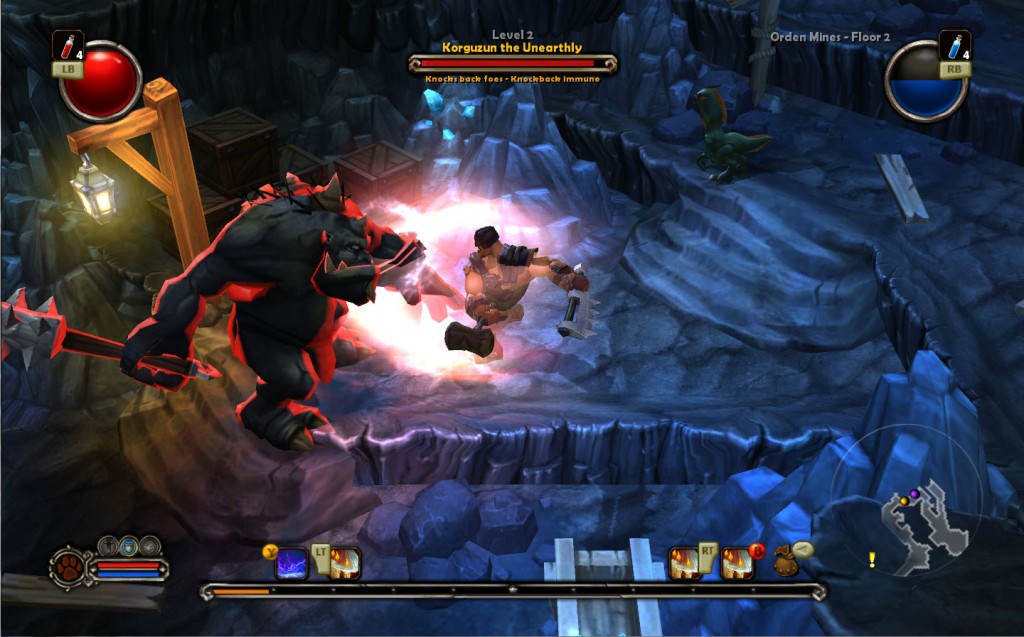 No Multiplayer
Unlike in Capcom's Monster Hunter series, this action-RPG is only a solo affair. Although A.I. companions can will help you during your journey, they're still not as efficient as having a human player playing alongside with you. It's too bad, as the game would have been much more fun playing with a mate. My brother was saying it would have been cool if he could just join in and become the hot chick with the bow and arrow…
Verdict
Torchlight is a highly enjoyable action-RPG game that even non RPG fans may find themselves playing it. This is because the hack-n-slash type gameplay offers more freedom for the player and you can attack more frequently than if it used the old turn-based system. Despite the game having no multiplayer and Xbox-like graphics, these minor mishaps do not deter what is a great game. Action-RPG gaming at its finest.
[Editor's Note: Torchlight was reviewed on the Xbox 360 platform. The game was provided to us by the publisher for review purposes]