Back in 2009, Q-Games released the first PixelJunk Shooter exclusively to the Playstation community with great results. The game sold well and was addicting and fun to play as well. Fast forward 2 years and they are finally getting ready to release the second installment in the Shooter series to pick up where that "To Be Continued" left off. I had some hands-on time with the first few levels of the game and am pleased to say that it is shaping up to provide the same fun and addicting experience as the first while switching it up enough to avoid a copy and paste label.
The first thing to point out is that the basics of the game are still intact. The controls are still tight and easy to pick up, you will still be interacting with various fluids in order to rescue the various survivors in order to progress the story, and the action sequences still keep you on your toes.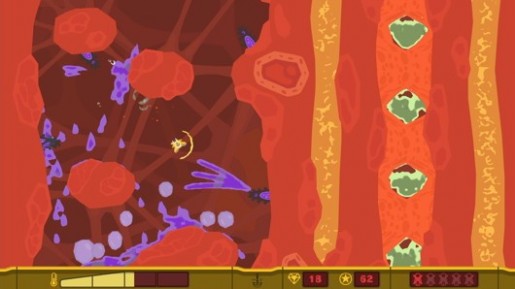 Whats new is the dramatic change in atmosphere from the first game. Gone are the caves and volcanoes or yore, instead you'll be fighting your way through the belly of a ravenous beast. This provides for some new liquid types that will keep you on your toes as you fight to escape and rescue survivors. The first of which you encounter is acid which coats your little yellow ship and triggers a countdown that will send you racing to find a pool of water to wash yourself off with before you lose a life. It's also wise to take note that water and bubbles can create this deadly concoction…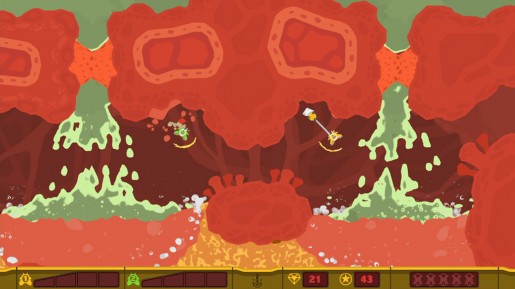 Another aspect of the game that Q-Games improved upon was the multiplayer portion of PixelJunk Shooter 2. Now along with the standard 2 player co-op you can go head to head with a either a friend or a stranger in an online competitive multiplayer. It goes into detail with an upgrade system and a credits system in order to purchase those upgrades. And to go along with that, each game mode in the competitive portion has both an offensive and defensive side that provides a break from the standard deathmatch.
All in all, PixelJunk Shooter 2 is shaping up to be an excellent follow up to the first installment. With new features and an online competitive portion, fans will be pleased to know that it probably won't end up being a run of the mill sequel with nothing to offer. Look for our review on March 1st.