The JRPG is a genre that is started to wane thanks growing influence of Western RPG games. Games like Final Fantasy XIII are showing that the genre is starting to become a thing of the past. Mass Effect 2 not only changed the RPG genre forever, but showed how things should be done in terms of gameplay, audio, and storytelling.
"Lord of Arcana" is a JRPG in the Monster Hunter form that places you in the boots of a warrior in the land of Horodyn. In this land, there is an ancient stone known as "Arcana" that holds great magical powers. Along the way you will encounter monsters that would love nothing more than to kill you. Some are terrifying while others are not. You'll come across fan favorites such as goblins and fight a dragon monster called Bahamut. Does this JRPG do Monster Hunter better than Monster Hunter itself and save the JRPG genre? Read on and you shall discover.
HOT
Gameplay
Once you are in the middle of combat you can really enjoy what Access games has done here. Unlike Monster Hunter, you break off into a contained battle with attacks in real time.  Every weapon you choose has their own special attack. Once an enemy nears its death, you can do the "coup de grace". This is a finishing move that ranges from taking your enemy into the air and smashing him down, or grabbing him by the leg and smashing him like a caveman with a club. The combos are fun and effective as well. The axe move of baseballing your enemy in the air and causing shards to come out of the ground is one of my new favorites.
Graphics
The PSP, as we all know, isn't the powerhouse that the PS3 is and the NGP will be. But some games break the mold and are still pretty decent looking games. God of War and Monster Hunter are two that come to mind. Lord of Arcana is no Crysis but it gets the job done graphics-wise. There are of course limitations to what you can be shown but it's nothing to worry about.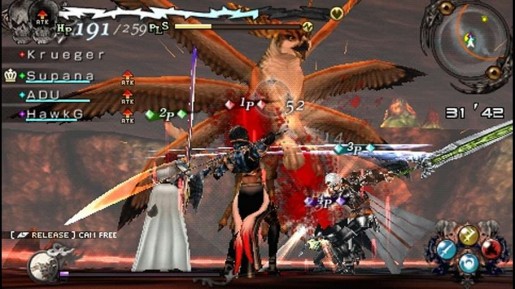 Audio
Probably the best thing about this game is the music. Nobuo Uematsu of Final Fantasy fame is the music producer and from the very get-go, you feel like you're experiencing something great. The background track that plays once you start off the first chapter is amazing.
Boss Battles
The boss battles are the main selling points of this game. They may not be as great as Monster Hunter but you can get some fun out of them. The boss characters themselves are unique as they were created by various artists from around the world. You know they will be enjoyable when you have a boss character created by Todd McFarlane (Spawn) and another created by Yoshitaka Amano (Final Fantasy).
Customization
Like all RPGs, you have a whopping amount of options when it comes to customizing your weapons, armor, and even your character itself. You can choose from a guy or girl, facial hair, hair, color, etc. The amount of options you have here will give you countless hours of amusement.
NOT
Difficulty
The real problem with Lord of Arcana is the difficulty. You don't feel any sense of power no matter where you are in the game. If you are on level 15, the enemy you faced an hour ago will react like your skill is nothing but a cardboard sign. Beware of enemies hitting you with cheap shots as they will take out a significant amount of HP, especially higher level enemies. In the middle of your weapon's special attack animation, you are still vulnerable so plan it around the enemies movements unless you want to use up one of your two revives. The best strategy when I played the game was attacking and retreating but even that faltered after a while. Anyone who likes a challenge may enjoy this however.
Multiplayer
For a game that would be perfect with online multiplayer Lord of Arcana doesn't even have it. Unless you have 3 other friends who just so happen to have this game you will be going it alone.  This would be perfectly fine but said balancing issues will turn this game sour in no time. The solo difficulty will probably turn you off before your friends will even hear about the game. You can however, play it with people via ad-hoc connection. Given that you have friends with all PSPs each with a copy of Lord of Arcana at hand…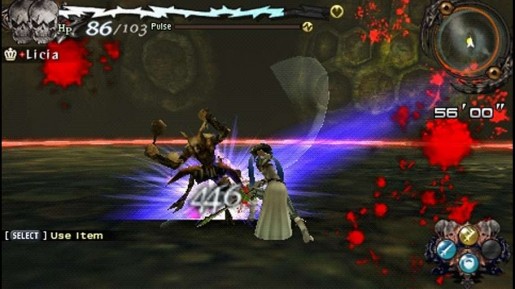 Mission System
The quest system in LoA is broken beyond belief. There is no option of skipping quests or having multiple quests open at one time. In my time with the game, I would near the end of the mission and I would run out of time. It may be nothing for some people but having to do the same thing again for 30 minutes makes the mission feel like work you don't want to do. The missions themselves are very repetitive and dull. Fetch quests and kill this boss mission aren't as enjoyable as they used to be.
Story
The story or lack thereof it, isn't helping Lord of Arcana reach the top. It feels like something cooked up to have you run around the world gathering X of X for the purpose of X. When it comes to the boss battles you realize why the story is the way it is. The Arcana is the mythical object that all of these monsters are protecting and will kill you if you even have a thought about finding the Arcana. If you picked up this game for the story, then you may want to keep the receipt.
Prologue
The beginning of this game is so good that it does the opposite. You are max level with hi-powered weapons, armor, etc. It sets you up thinking that this is what the entire game will be. But you will be disappointed when you hit your first mission and realize what it'll take to get back to that sense of power.
Verdict
Lord of Arcana is a frustrating RPG that shows glimmers of what the game could have been. The lack of online play and the poor balancing make this a game you rent once and never give it a thought ever again. It tries to be Monster Hunter but these flaws keep it from surpassing Monster Hunter. If you are a fan of the genre and have 3 friends to play the game with, then you may want to check this game out. It's a hard sell if you're not into the genre and don't have 3 friends to play with though…
Lord of Arcana Review

,