Hard Corps: Uprising is another game in the long running Contra series. This new game acts as prequel to Contra: Hard Corps and promises to deliver more action and mayhem.
Hard Corps: Uprising is a new age side-scrolling shooter in the vein of SNK's Metal Slug series. This genre was at its peak during the 90s and has only made a comeback thanks to the accessibility for gamers to now download games online.
Does Hard Corps: Uprising bring anything new to the table? Is this game easy or very hard? Answers to these questions and more as we take a look at the HOTs and NOTs of Hard Corps: Uprising.
HOT
Visual Presentation
Arc System Works (the game's developer) has gone all out with the art and visual style in this game. Fans of anime and cartoons alike will appreciate the amount of detail that has gone into each of the character models and level designs.
Many gamers will know that Arc System Works is responsible for also designing fighting games, Blazblue and Guilty Gear. The mix of 2D cel-shaded characters and the 3D background on the levels are enough to make any person stand in awe of their beauty.
Environments that players will traverse in include dense jungles, rivers deserts and a whole lot more. The diversity of colors used to create these levels are bright and luscious. It's a nice change to see these sorts of levels created after seeing many dark and depressing war-torn environments that are often in many games released today.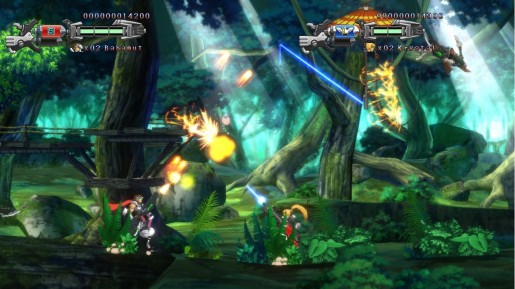 Varied Enemies
There's nothing more repetitive than playing a game that forces you to go up against the same drones over and over again. Thankfully, Hard Corps: Uprising will make you face many enemies that have diverse attack patterns and will come in many different sizes and shapes.
Sure there are still your average foot soldiers, but you'll also be up against snipers, bats, piranhas, robots, alligators and even poisonous plants!
But that's not all. There will be various traps you will have to look out for too. One level will see you inside some ruins and you will have to avoid several boulders ala Indiana Jones. But unlike Indiana Jones, you will also have to avoid trap doors and deadly spikes at the same time the boulder is chasing you.
Upgrading Your Character
The best part about this game is the fact that you can earn CP (character points) everytime you play the game. Even if you die within a few seconds you can still earn some points that will help you buy certain upgrades for your chosen character.
The game is a little stingy at first when it comes to the number of lives and health bars. You can all change this however by buying as much health upgrades as possible. Not only this but the number of continues will increase everytime you play the game too. Normally you only have three lives and three continues. The more CP I earned, this has thus increased to 9 continues and six lives.
You can also upgrade the many weapons in your arsenal too. The range of weapons you can grab include a grenade launcher, a reflective laser gun, a flamethrower and a machine gun. All these weapons are essential if you want to battle the many bosses that await you.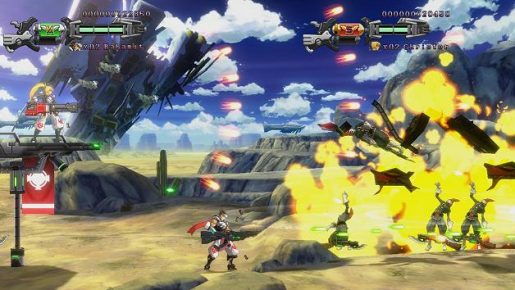 Epic Bosses
Every side-scroller has a end of level boss. This game usually has two sub-bosses in each level ending in a final showdown with the real end of level boss. These bosses can be very grand in size and are rendered in full 3D. This style reminds of Rogue Galaxy on PS2 where the main characters are in 2D and some of the bosses are in 3D.
Bosses usually have set pattern for you to exploit but these ones are not too easy. You'll have to master all the controls of the game in order to avoid all the incoming fire that these bosses will ultimately dish out on you. You will have to dodge usually at the right time as gunshots will be coming at you at a very rapid pace.
Co-Op Action
It wouldn't be a side-scrolling game without some co-op action. The best part about co-op is that you can both be the same character. Not only that but you will both have the same upgrades too. If one player played through the game earlier and upgraded that specific character, the second player can now benefit all the upgrades that were earned.
Sure it sounds a little lazy but, considering the insane difficulty of the game (more on that later) you will be thankful of this feature as you will need all the help you can get getting through any of the levels in this game.
NOT
Insanely Hard Difficulty
Hard Corps: Uprising would have been a more enjoyable game had there been an option to set the difficulty of the game. Some games offer players the option to set the game from "easy" to "hard". I like that system as it caters for players of any ability level. Hard Corps: Uprising has no difficulty for you to choose from and it seems as if the developer assumed everyone is a hardcore gamer.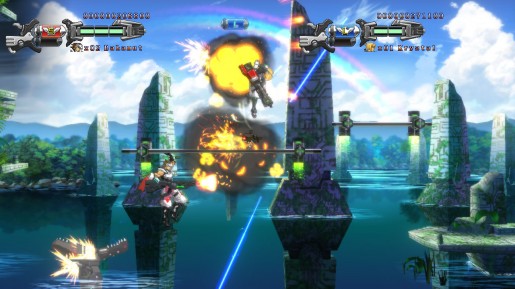 It may not be as hard as the Ghost N' Ghouls series but it's pretty close to that level of insane difficulty. Once you enter the battlefield hordes of enemies will already be shooting at you from all directions. This includes not only soldiers but enemy drones, plant traps and lots of other things. Although there at least three checkpoints in each level, they're few and far between.
Expect many deaths and retries if you even want to get past the first level!
No Four Player Co-op
A game of this nature would have benefited more if there was a chance to play with up to three other players. 2 player co-op is still fun but even then, the game is way too hard. I'm sure if with the extra fire power that four people could provide, the game would have been more of a blast to play.
Verdict
Hard Corps: Uprising is a good game. The gameplay doesn't feel too outdated and the anime-style graphics are phenomenal. The fact that you can upgrade your characters also separates this game from many other side-scrollers out there. Sadly, it's insane level of difficulty will deter many gamers and will hinder the experience for them. It's unfortunate as Hard Corps: Uprising could have been a "great" game instead of just a "good" one. Only hardcore gamers may find some enjoyment out of this game. Everyone else may find themselves with many broken controllers…
[Editor's Note: Hard Corps: Uprising was reviewed on the Xbox 360 platform. The game was given to us by the publisher for review purposes.]
Hard Corps: Uprising Review (XBLA)

,