Remember 2010? Seems like only last week, right? Time marches on, but one thing hasn't changed: Every Monday still brings a fresh lineup of downloadable games to the Wii™ Shop Channel and Nintendo DSi™ Shop. If you're new to the WiiWare™ or Nintendo DSiWare™ services, now's a great time to browse and discover hundreds of available titles. From puzzle games to platformers, brain games to action-packed shooters, you'll find something to please any hand-held or console gaming appetite. The WiiWare service even features demo versions of select games for zero Wii Points™, giving players the chance to sample them before deciding to download the full versions. You can also explore the Virtual Console™ service, which offers a wide range of video game classics that can be played on your Wii system.
The future sounds pretty fun so far, doesn't it?
Happy New Year!
This week on WiiWare, Sneezies, an overload of cuteness, where you can enjoy soothing, relaxed game play featuring fantastic graphics and sweet melodies. Use your Wii Remote™ controller to drop a burst of sneezing powder into the field of floating Sneezies and watch as they sneeze themselves out of their bubbles in a marvelous chain reaction. Try to rescue as many Sneezies as you can. Sneezies features beautiful graphics, varied backgrounds, hilarious sound effects and soothing background music. Next up is Ghost Mania, an original puzzle game for players of all ages, offering a new twist on the falling-block genre. Build and expand colored stacks of ghosts and blocks in any direction and any number. Also avail this week, a demo version of RoBox from DreamBox Games.
Alt-Play brings the best of independent gaming to the Nintendo DSiWare service, introducing players to some of the most unique experiences this medium has to offer. You'll need a sharp eye and a quick mind to complete 100 themed word- search puzzles. Word Searcher 2 contains fun words from multiple categories including palindromes, pirates and painting.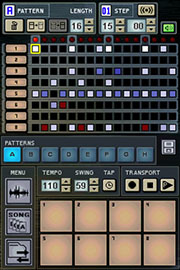 Music on: Drums is a beatbox full of features for creating songs and rhythms. With a library of 160 sounds, use your creative skills to assign them to eight available tracks per pattern. Activate or deactivate each of the 16 steps that make up a track using the buttons or the stylus and combine the eight patterns to compose up to 64 songs. If you want to produce a more complex tune, you can customize each step and set the volume, change the frequency and assign a panning. Like a professional DJ, you can create and play in real time. Once you've laid down your patterns, you can use them to create much more complicated rhythms in Song mode, where you can add them to a sequence of up to 32 parts and change their length, activate or deactivate tracks, add repeats and so on. Music on: Drums also includes a pre-recorded song.