I doubt I'm the only person waiting or hoping to see a certain classic on the PSN, well in any case Capcom is asking twitter users for their 2 cents on what others want to see on there.
There is no doubt that Capcom has been around for ages, and has countless classics and cult favorites. These games range from Vampire Savior, to Biohazard, to Rockman Dash. As per the tweet it would appear that their looking for your input on what should or should not be on the PSN. If you don't happen to know any of the classics I listed that would be due to their japanese names… Yes sadly this only goes for Capcom JP but we can hope that down the road the US branch will do the same.
If you have twitter and are interested in voicing your opinion, tweet them with "#cpag2011". Before you pop over there though only SOME games are listed. The games eligible are listed below… Remember if it happens in Japan there is a chance it might come stateside!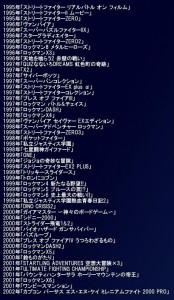 If you don't happen to like twitter or cant read japanese but still want to give your 2 cents, please post a reply saying what game you would like to see!