Planet Minigolf is the exclusive PlayStation Network title developed by Zen Studios. Planet Minigolf lets players enjoy the minigolf (or crazygolf) experience. It can be played with either the Dualshock controller or the PlayStation Move. The game offers a Minigolf experience with a twist with course from different exotic locations.
So lets tee of the HOTs and NOTs
HOTs
Amount Of Content
Planet Minigolf has overall 144 pre-made hole for players to enjoy, and if that isn't enough the impressive Stronghold Island DLC pack adds even more. The original 144 holes are split into 16 separate nine hole courses. The 16 courses are then equal divided into four 'exotic' locations which are named and respectively themed: Buccaneer's Hideout, Soho, Polar Station and Ancient Valley.
At each location the 4 course are split into different difficulties: Warm-up, Pro, Extreme and Whacky. They step up in difficulty appropriately, but only attempt Whacky if you are up for a real challenge. On Whacky holes seem more about solving how to get the ball to the hole rather than just hitting it there.
Although there are only five characters to choose from, they can all be personalised through the unlocks. There is a mass of unlockables from clothes and accessories to new balls and putters, waiting to be unlocked through the unique bronze, silver and gold key unlock system. Players will be aiming to complete courses to collect the different value keys, especially so they can kit their character out with cool shades and the umbrella putter.
Power Ups
Powers up make the game of Planet Minigolf new and fresh. They are all completely different and will often allow players to complete a hole much more easily. The power ups range from a super rocket boost which fires your ball in the forward direction to a power up which allows the player to control the direction of the ball with either Sixaxis or the Move. With such different power ups all doing unique things, which are sometimes crazy Planet Minigolf is more than just a Minigolf simulator. It's a Minigolf game!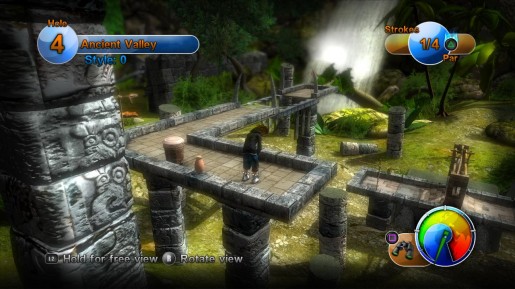 Controls
There isn't one control system, not two, not even three if you include the PlayStation Move but there are four different control schemes. The first is named 'Easy' which is as the name suggests very simple, just pressing and holding X for the power. '3 Click' is the second is a bit harder but if players get used to it can hit the ball to the exact place they want. Thirdly Direct which utilizes the analogue stick, just swing back and forward to send the ball on its way. These three control options are all relatively simple and many the game easy to play but if you want easy and the ultimate precision the four control system is for you.
PlayStation Move
The PlayStation Move adds a brand new way to play Planet Minigolf that is like no other. The precision of the Move means players can make the slightest strokes on the ball and tap it into the hole. This precision means literally anyone can play Planet Minigolf with ease and straight away enjoy the game.
Replayability
Even with 144 holes, Zen Studios must have thought players still might get bored so they included a Course Editor where players can simply create their own! The creator is extremely easy to use with a press to place system. All available pieces are unlocked from the start so players don't feel obliged to play all pre-made holes before making their own minigolf courses the exact way they want them. It's what player can do with the holes and course once they are created that make this feature truly astounding.
Players have the option to upload holes and course for their friends to play and then share them on the PSN. This means players will never be without the option of a brand new course. Multiplayer also adds huge replayability value to Planet Minigolf. Take it in turns on the offline multiplayer or take on an opponent online, whether it's a friend or a random from somewhere anywhere around the world.
Neat Features
Including a Replay Editor is a nice touch that seems to be popping up in more and more titles these days. Although I found it quite hard to hit a worthy shot, I'm sure pro player will make full use of this feature, being able to show off the best hole-in-ones to their friends. Not only can players record the shots but to show the world by uploading them to YouTube.
While the commentary can be very obvious at times with lines such as "He's lining up his shot" it is usually rather good and surprisingly funny at times, although they are 'bad' jokes. It adds to the games music which means the game has solid sounds but also adds value to the gameplay.
A nice built in check for uploading levels is that before players can upload a hole, they actually have to complete it, ruling out impossible holes. This means while there are still hard courses out there, the frustration of a level that cannot be completed is removed from the game, a very nice feature which should be included in all titles with the ability to create and upload.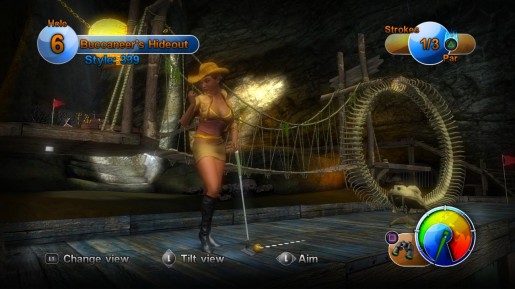 NOTs
Confused Presentation
Planet Minigolf has a rather cartoony realistic feel which looks as confusing as it sounds. The game tries to pull of seamless graphics it doesn't quite make it. Although it is only a PSN game and this slightly lower graphical presentation is expected it really would have made the game excel if it looked as amazing as it plays.
Camera Issues
While it's usually fine, at times the camera has its problems in Planet Minigolf. While attempting to move the camera angle to what you want it occasionally feels uncontrollable, whether using the Move or Dualshock controller. Another problem is when an object would block the cameras view it takes some thinking time to figure out where to look from.
Verdict
Planet Minigolf is both enjoyable and entertaining. It has a good variation of locations with all a distinctive theme, plenty of content for you money but most of all a large replay value due to the create-a-course mode and multiplayer. While it has a few flaws they don't detract from the fun of the title and the unique features such as the power ups give the game a new and fresh feel. You get full value for money from Planet Minigolf whether you have the PlayStation Move or Dualshock controller but, if you own a PlayStation Move this should definitely be on your wish list.
Planet Minigolf Review (With PlayStation Move)

,