Gladiator Begins takes the gritty, bloody and brutal life of a gladiator and puts it in your pocket. Aksys Games has brought this ARPG to the US for combatants of all types to enjoy. The game opens up with your male or female character (however you customized them) being purchased as slave and entered forced into the life of gladiator.  From here it is up to you to fight for your freedom as you fight for your life.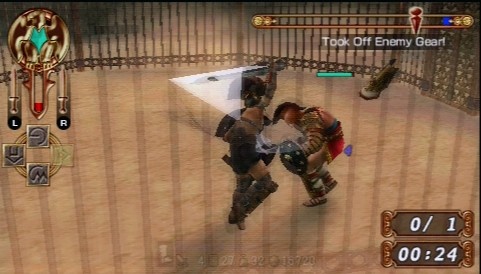 HOT
Controls
PSP games have a history of uncomfortable or incomplete control layouts. Fortunately, this is not the case for Gladiator Begins.  The analog stick is used for primary movement, R guards, L doubles as a special attack trigger and parry if block is enabled.  Let's move onto the primary buttons.  Triangle is high attacks, square/circle control left and right attacks, and X executes lower attacks. Of course as you progress you are allowed to map different moves to each slot as you earn new ones. While the body zone specific attack buttons are a nice touch it is the D-pad that wraps it all up nicely.  Triangle, circle, square and X are offensive options that correspond to certain areas of the body and the D-pad is used for the opposite reason; defense. Up on the D-pad equips/unequips helmets, right picks up/drops for the right hand, left does the same for the left hand, and down equips items to the most logical spot if you're in a hurry.  This becomes quite a tactical feature, but we will get more into that in the next HOT.
Combat
Hopefully you didn't skip the section above because I'm going to explain the combat with the assumption that you fully understand the controls and each buttons purpose.  Before entering your first fight be sure to have your fighting style chosen. The 4 primary types are pugilist, single sword, sword and shield and dual swords.  This may sound misleading since there are not just swords.  Maces, spears and other weaponry you would expect are available.  If you really want to get specific, then I believe sword and shield can be divided into to styles.  A single sword and a small shield is an effective combo while remaining swift.  Using a larger, full body shield and a sword results in slower movement and attacks.  The player has to reach around and over the larger shields in order to strike the enemy.  Personally, that style is too sluggish for me. Anyways, after you have chosen your style it's time to soak your loin cloth in blood.  The great thing about the game is the tactical nature that you feel at first especially with stamina playing a huge role.  Early on in the game you want to get more weapons and armor to try out.  This can lead to disarming an opponent in a specific manor so that you may retrieve their items before they do.  For example, if you can knock an enemy's shield out of their hand you are welcome to nab it for yourself if you can get it before them.  The game is sure to give you a visual cue when you are close to knocking equipment free from your enemy.  If you make contact and blood sprays, then your attack hit flesh.  If sparks fly out instead, then you have made contact with their equipment.  Repeated attacks on a piece of equipment will make its color change with each strike.  Get their sword in the red and a couple more strikes will set it free.  These are pretty much the basics of combat that you will become accustomed too fairly quickly.
Combat comes in a few different forms. When you enter arenas you will be given the option to choose from a list of events to participate in.  Team Battle, Duel, Battle Royale, Survival and Two on Two or the most common, but every once in a while you will be given the choice to fight in a VS match against another master gladiator if you have caught the attention of people in high places.  The reward for each is based on the difficulty which is on a 1-3 scale (3 being the hardest).  Some have time limits while others give you infinite time to dispatch your foes.  During the fight it is crucial to please the audience.  Leveling up and becoming an armored tank that can kill people in a few hits is not worth it for the crowd.  They want a long, skilled fight that is worthy of their attention.  You will be graded on your performance at the end with sayings like "unable to dodge", "consistently strong", "don't remember the match" and so on.  This keeps players from creating gladiators with maxed out strength since defense is just as important when you have to last a decent amount of time alive.  Once the match has ended and you have received your rating you are given the chance to take a few items off of the battlefield with you.  You are only allowed a set amount of slots to take equipment so be sure you grab what you need or can sell at a high price.  The monetary reward from the match is split since you need some to buy new items and/or heal while the rest goes towards your debt.  You must pay off the price paid for you as a slave so you can become a free man (or woman).
Customization
From the very beginning the customization is present.  You build your character as either male or female, choose skin tone, face type, etc.  After finalizing your initial build you will be on a nonstop quest to deck out your fighter in the latest armor and swinging around the best weaponry.  You can either pick up your stuff at the end of each match or use your winnings to purchase new/old equipment depending on your funds.  Special equipment (with high stats) are represented by their titles being colored something besides the basic white such as blue or yellow.  Most people will stop caring what their gladiator looks like after a while and just end up with a character who has a mixed bag of high level goodies covering their body.  The necessity for better and stronger items creates an addiction to scavenge for the best so that you can continue to be the best.  As many RPG fans are aware finding and utilizing new items to their fullest until the newest shiny toy comes around is quite common and can grab your attention for long periods of time.
NOT
Story
After reading the intro I'm sure you have noticed that this isn't a game that is straying to far from the usual storyline regarding gladiators.  Actually, one could even enjoy this game while omitting the fact that there is even a story present.  The story comes in the form of old-fashioned text dialogue (without audio) between matches including various characters that you meet.  Sometimes you'll catch an interesting piece in a discussion, but that doesn't happen too often since it all follows the same line really.  Think of the game as a beefed up simulator instead of an action adventure.
Repetitive
You may recall me saying that the great thing about the game is the tactical nature you feel at first.  The key words there are "at first".  This is primarily due to the fact that after a while the game devolves into button mashing.  Why bother trying to disarm enemies when you can just hit them in the head?  I'm serious.  The most effective technique is to bash their helmet until it flies off then repeatedly hit their head for critical damage.  That tactic will get you very far if not to the end.  The other side of the repetitiveness comes in when the game decides to randomly ramp up the difficulty 150%.  Enemies will catch you in a combo loop where you keep slamming your back into the wall and rebounding into their weapon.  If you can get their helmet off they're sure to knock you back with another combo after a hit or two and reclaim their armor.  This leads to some extremely drawn out fights that you will most likely have to repeat if you become impatient.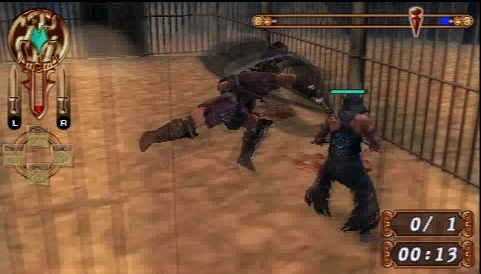 No Online Multiplayer
Online multiplayer seems to be implemented in every game out there now, even ones that really shouldn't have it in the first place.  Gladiator Begins is the opposite as it is one of those games that desperately needs online multiplayer, but does not include the feature.  Being able to take on opponents online and try out your different armor/weapon combos on people around the world would truly be satisfying.  Climbing the leaderboards as the top gladiator would be something I'm sure most would have fun aiming for.  It seems like common sense in a game like this, but it ended up being a huge missed opportunity.
Verdict
Gladiator Begins is a fun and sometimes addictive ARPG that does a good job of simulating the life of a gladiator.  The combat has the ability to be deep and tactical which is only aided by the smooth control layout.  It is unfortunate that the game starts out at its peak and begins to spiral into repetitiveness and a story no one will bother following.  Also, the exclusion of an online multiplayer component really cuts into the replayability factor.  All in all Gladiator Begins is a solid game and will keep ARPG fans content for a while, but in the end you can't help but think that it could have been much more.
Gladiator Begins PSP Review

,