When The Bearded Ladies land, you're in for a…treat? Originally pegged to be a PC game, the developers eventually settled on pitching their game for Sony and its PSN library. Suffice to say, I'm greatly surprised what coconut music and helicopters can achieve.
Marley exercised his five finger discount and stole Leonardo Da Vinci's artwork. These include plans for a flying contraption we've come to call a helicopter. This comes to light when Marley crash lands and winds up on a tropical island inhabited by Marley, a rather interestingly sounding fellow who looks like the long lost brother to Tom Hank's character in Cast Away.
The story is told quite well through the comic book illustrations that propel you forward throughout the various 20 levels available. So after building their rather wonky looking helicopter, Marley is set in play to test out this machine.
HOT
Easy To Grasp Controls
Handling of the helicopter is really well done. R2 controls the ascension into the heavens and letting go has you dropping like a stone. The control is heavily focused on real physics so you must slowly control your descent upon landing. You can inadvertently run over, if you will, the passengers you have to ferry all over the place.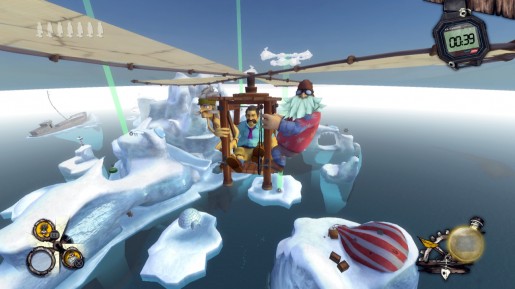 Content and Gameplay
This is a unique take on a game like Crazy Taxi. A timer sets in when you begin, driving you forward to make sure can collect and drop off everyone. Other little challenges will be not landing when outside of a cave if the bats are still inside; otherwise you'll get blasted away from the landing area and then have to come back again.
You are also given upgrades to your flying machine to assist you in your quest to being the GREATEST WOODEN HELICOPTER PILOT/TAXI DRIVER IN THE LOST ISLANDS. Well, that sounded more epic in my head.
Helpful Maps
Surveying the map gives you the chance to pre-plan your strategy on who to get first, which can really help on the harder levels. It's these little games which can set them apart from their big retail brothers but giving your brain that extra boost to 'think' while playing.
Got Friends? Chopper Up!
Multiplayer is quite funky also. You can take part in some split screen duels against a fellow chopper pilot or have a guest jump in for some campaign split screen action also. This extends to say a party atmosphere so you can all take turns at giving this arcade heli game a whirl, no pun intended.
Colourful Graphics
The graphics are nice and colourful which adds to the very islander styled music playing. It won't break any grounds for best looking PSN game but it suits what is needed for this very addictive little game.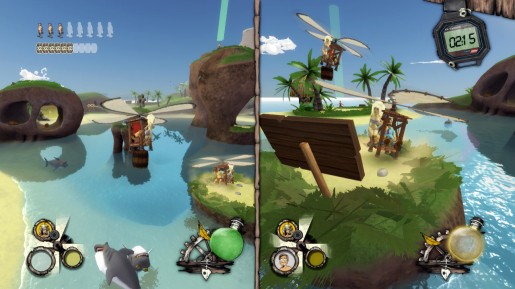 NOT
Environment Issues
My only gripe is there's some clipping issues, you can fly through palm leaves and not get penalised which, for a game which strives to have so much strategy seems a touch out of character. Plus some textures do look a bit dated but again, only minor things compared to the whole.
No Virtual Friends To Play With
Like a lot of these titles having the online option for multiplayer would have really added some extra life but in the end, for a game like this we really are getting what we paid for. In an age where online play is nearly a must, it really would be something some developers who have submitted their games for purchasing are willing to patch later down the track with an online feature. After all, it is easier to find an online gamer than it is to organise a mate to come over.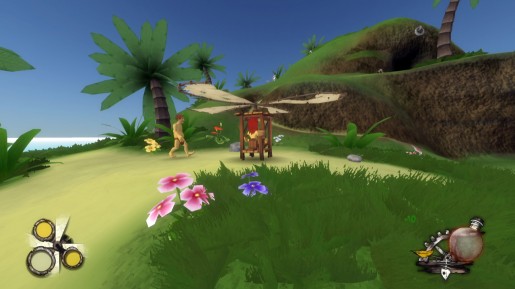 Verdict
Landit Bandit offers a tonne of replayability and Sony well and truly can be proud to add this little gem of a game to their already broad and engaging list of PSN titles available.
Well done The Bearded Ladies, you've made hairy women proud today.
Written by Ben Kage
Also right now there's a special offer on the EU store where Landit Bandit is now selling for the lower price of 8,99€.
Landit Bandit (PSN) Review

,