For iPad owners who are stuck with the 3.2.1 firmware can now jailbreak their device and install some of the applications that Apple doesn't want its consumers to have.
Comex released a new Jailbreak tool two days ago that allows any iPad that are on 3.2.1 or below to jailbreak their device and install Cydia. Similar to Spirit's Jailbreak, Comex's tool is easy to use and it only requires at least three minutes of your time.
Before we start, please remember that we are not responsible to what happens on the iPad. Jailbreaking always has a risk in bricking the system. However, it can easily be restored by doing a firmware restore on iTunes.
HOW TO:
1. For iPad 3G owners, please make sure that the microSim card is removed and the consumer is connected to Wifi. For WiFi iPad owners, just make sure that you are connected to a Wifi as it will require internet access.
2. Open the Safari Browser and go to jailbreakme.com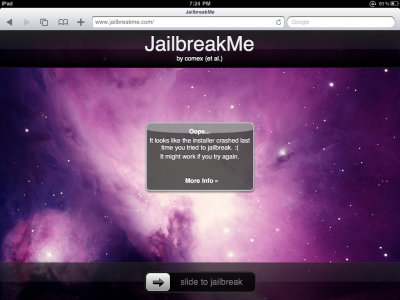 3. To begin the jailbreaking process, simply slide down the bar and it will ask a confirmation before the installation begins.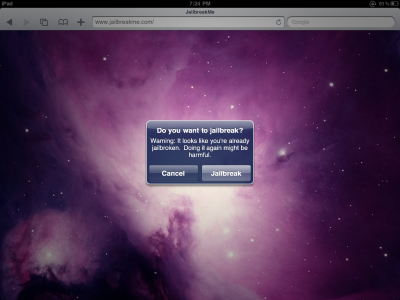 4. Once the process begins, wait for the jailbreaking process to end and the iPad will reboot. A confirmation saying, "A Cydia has been added" will appear if you are successful.
Due to the high demand that Comex is getting, there will be a chance consumer will have trouble accessing the site.
How To: Jailbreak 3.2.1 iPad

,