Few games on the market provide players with as much variety as Valve's online shooter Team Fortress 2. Since its release in the fall of 2007 the game has gone through nearly uncountable updates, addons, tweaks, and changes which keeps its rabid audience even more enthralled than day one. In fact, while the core gameplay remains similar to its vanilla edition, the game has evolved so much it might even be labeled a rebirth title at heart. What makes it so powerfully addicting then? Why do thousands flock to public servers on a daily basis to get their fill of shooting goodness?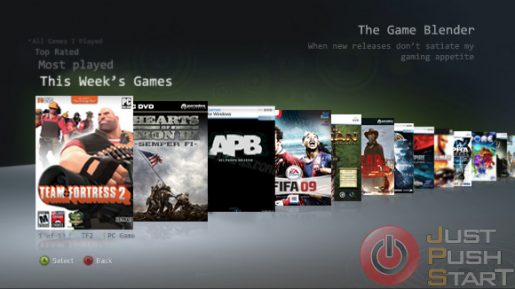 It's simple: Team Fortress 2 doesn't attempt to put up a pretentious facade, instead it harnesses exactly what it is and throws it directly in your face. For those with no experience of the game's history, Team Fortress began as a multiplayer modification for Quake back in 1996. It took the deathmatch-centered gameplay of id Software's infamous first-person shooter and introduced class-based combat instead of the standard free-for-all with every weapon available to all players. This mod was soon ported to Valve's Half-Life multiplayer code and Team Fortress Classic was born, which elevated the game into a mainstream market. After almost a decade of sequel hints, screenshots, and sneaky press releases, Valve finally delivered on its promises in October 2007 with Team Fortress 2.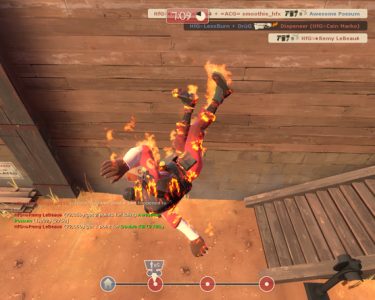 Unlike other contemporary multiplayer FPS games which focus on modern realism or tier-based teamwork (EA's Battlefield series, for example), TF2 insists each team is balanced with diversity among the nine available classes. As Red and Blu teams clash on medium- and small-sized maps, the team which is most balanced is frequently the victor. For example, there are two loose categories of class, offense and support. The offensive classes are a basic heavy weapons guy with a massive minigun capable of vast space control and a huge bank of hit points; a bazooka-toting soldier and grenade-launching demoman add explosive firepower for direct player-on-player firefights. Snipers duel from behind the front lines with rifles and flamethrowing pyros generally lead the assault into enemy territory. Engineers are capable of constructing turrets, supplies-providing dispensers (ammo, health), and teleporters for fast transport between spawn points and the action; medics ensure the damage-consuming offensive classes don't die, and ultrafast scouts pester the enemy with powerful close-range shotguns. Lastly, spies are a wildcard with their ability to become invisible, disguise as enemy players, and perform one-hit kills with backstabs.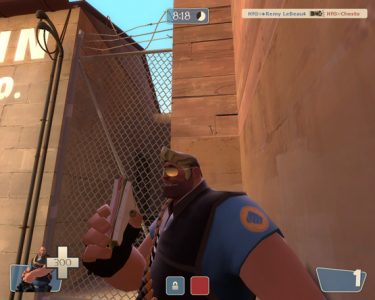 While that might sound like a mouthful, each class performs a specific duty for his or her team which becomes self-evident after an hour or so with the game. Where TF2 really shines, and what makes it so attractive to anyone tired of the 'new-age' formula of Bad Company 2 or the incessant Call of Duty sequels and clones, is its strict adherence to a "aim, fire, gib" philosophy. It's true that -like any game- TF2 takes a bit of time to learn the nuances of each class, but the underlying mechanics are so straightforward a zombie infant could pick up the controller and be halfway decent. With nine different classes and nine different playing styles, the game caters to any sort of player you happen to be.
For me, I've traditionally been more of the 'stay back and meddle' type of player, so the sniper and spy classes are particularly magnetizing. Little in gaming is more satisfying than methodically working behind enemy lines as a spy then striking out seconds before a heavy-medic combination triggers an ubercharge (after a medic heals for a period of time he is able to make another player invincible for fifteen seconds or so). Successful spying requires the patience of a goat on behavioral meds, but the rewards are immense.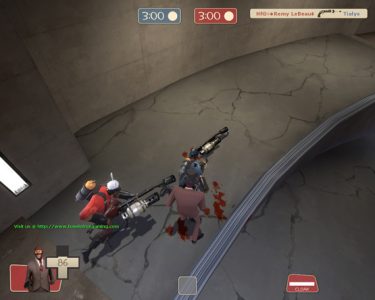 Valve's insistence on upholding their happy-go-lucky game and maintaining a rabid fan base has kept Team Fortress 2 as fresh as any. Several months after release, the developers began updating each class with new weapons, which in turn introduced evolved playing styles. For example, medics were presented the option to swap out their basic invincibility-providing heal gun for one which could provide players with a massive damage increase for a short period of time. Snipers were given Jarate, a jar of questionable substance which might be hurled at the enemy and all struck by the liquid take increased damage -at the sniper's expense of being more vulnerable to spies. With the exception of the spy's dead ringer, all class updates proved to further diversify and balance the game.
Even more, Valve provided collectible items to players in the form of hats and small character gadgets such as earbuds and patches dependent on when you signed up for the game. While technically ineffective in terms of gameplay, such additions provide a sense of personal advancement which rewards frequent play.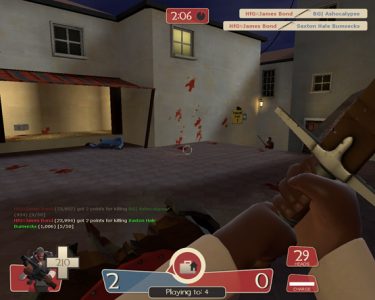 Like any multiplayer game, unfortunately, the experience of Team Fortress 2 is completely dependent on the company you keep. A few public servers are hostile to newcomers while others allow paying admins (or clan members) cheat codes so they might easily handle non-paying players. Personally, I play on the "Hassle Free Gaming" servers which offer -true to its namesake- a hassle-free environment for adults to enjoy their gaming time in peace. Here, the true game experience can be fully taken advantage of without the constant irritant of griefers and players insistent on ruining the game for others.
In an age where online shooters are more abundant than ever, it's refreshing to find one which provides a timeless escape from the confines of realism and allows its users to let go and have fun. With the ever-continuing trend of pseudo-realism in games (cover mechanics, regenerating health, etc), Team Fortress 2 goes against the grain with health packs, comedic relief, and above all: a good time.
Why Team Fortress 2 Remains the Best Online Shooter, 8.6 out of 10 based on 5 ratings