The days of World War II games seem to be a distant memory.  Up till 2007 Battlefield, Call of Duty and Medal of Honor were all busy creating every possible narrative for World War II.  Towards the end of 2007 Call of Duty took a chance and brought us a much needed change.  The era of modern combat FPS games began.  The success was immediately recognized and other series made similar changes.  We saw Battlefield make the transition from past to present with Bad Company.  Medal of Honor had been MIA for years.  Even when its games were appearing on store shelves they received generally average reviews.  There were good ones that made it out like Underground and Frontline, but the series as a whole hasn't seen too much critical acclaim during the second half of its lifespan.  The question on everyone's mind was "Will Medal of Honor return?".  As everyone knows by now the series is definitely back and it is following in the footsteps of the other top notch FPS series.
Medal of Honor is receiving the reboot treatment and is hoping to prove itself in a market run by Call of Duty and Battlefield.  The hype is there and people are crossing their fingers that this game doesn't follow the mediocrity that the series has shown over the years.  This game differs from others in the sense that is taking a current real-world conflict and putting it at the heart of the game.  The War in Afghanistan is a controversial and bold move for the franchise.  That aside, in order to be a real threat to Modern Warfare and Bad Company it will not only have to contain solid controls and gameplay, but that gameplay will have to include some sort of innovation to help it define itself and give gamers a reason to dish out $60 for another modern day FPS.  Luckily DICE has taken over the development of the online component of Medal of Honor bringing their Frostbite engine and Bad Company formulas to a different franchise.  Players now have a chance to play an early build of the game's multiplayer in a closed beta – obtained by reserving the game at specific retailers or getting lucky in website contests – to get a taste of what to expect later this year.  If you weren't selected for the closed beta, then let me tell you what its all about and if you should be interested.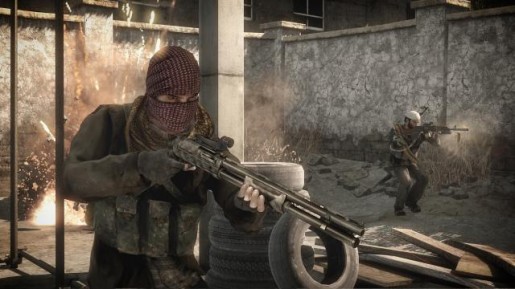 Upon startup players will be giving an option of two game types: Team Assault and Mission.  Team Assault is your standard team deathmatch with Coalition forces facing off against the Taliban.  The Kabul City Ruins serves as your warzone.  Players will immediately notice that the map is a lot smaller than they have come to expect from DICE.  Long gone are the vast areas and intricate flanking routes that Bad Company 2 brought competitive multiplayer.  These have been traded for close quarter areas with numerous crevices and rooftops to explore and attack from.  Campers may have been welcome in other games, but that doesn't seem to be the case here.  With smaller maps comes the need for constant movement.  There may be no kill cam showing your killer, but it really isn't too hard to locate them after respawning due to the layout of the map.  On the subject of respawning there is no waiting time in the Team Assault mode which is a nice change from DICE's previous mechanic.  This allows the skirmishes to remain unrelenting and engaging.  It really keeps you on your toes since you are aware that the enemy you just scored the headshot on is already back on the battlefield is gone and that respawn timer cushion is gone.  The formula will feel very familiar to those who have played the latest iterations of COD or Battelfield.  Actually this game feels like the offspring of the two.  The controls and speed side more with Modern Warfare whereas the design and modes show off Bad Company 2.
Now on to the second game mode.  Mission is heavily reminiscent of Rush mode from Battlefield.  It takes place on the map Helmand Valley.  Attackers try to complete objectives while the defenders attempt to thwart their efforts.  If the attackers are victorious, then the defenders are pushed back to another base.  The feel is slightly different from Rush due to the smaller maps because this leaves the attackers with minimal flanking options.  Due to a current flaw in gameplay the attackers' disadvantage will become trivial since players have a choice to spawn at the frontlines with their comrades since someone always happens to be alive.  This creates a constant barrage of gunfire for the defenders to deal with.  If skill levels are about equal on each team then the continuous attack will surely become overwhelming eventually.  This isn't a game breaker, but it can become noticeable from time to time.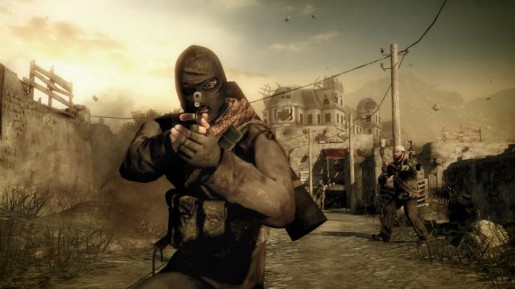 Let's dive deeper and explore skill levels, unlocks and score system.  The scoring system in Medal of Honor follows closely to Modern Warfare.  A "+10" pops up for a kill.  Did you get a headshot?  Then it will be followed by a "+5" which will add together to show a "+15".  This creates a score chain which will add any points earned in succession together.  These range from kills to assists to certain defensive actions.  Chaining enough together (obtaining a killstreak) will reward the player with a choice.  After 3 consecutive kills I was presented with an offensive and defensive choice for my reward.  UAV provides you and all of your teammates with a view of enemy positions on your mini map.  The other option was an artillery strike.  Select it and you will select a target area via binoculars.  There is minimal time between selecting the position and the artillery's strike.  This gives enemies very little time to escape their fate.  Maybe I have gotten ahead of myself.  Let's take a moment to dissect the available classes.
Medal of Honor has 3 classes: Rifleman, Specialist and Sniper.  As you progress your skill level in each class you will unlock specific items for that loadout.  Riflemen can expect silencers, muzzle breaks, extended clips, sights and, of course, new assault rifles.  Specialists follow a similar structure and are able to choose from various upgrades such as optics and ammunition types.  Snipers get special items such as the rangefinder.  The sniper is very unique in the fact that it starts out with a red dot instead of a standard scope.  Then it upgrades to a combat scope.  Finally you will have access to the basic scope as you unlock the better snipers.  Personally I found the Taliban at a disadvantage as their sights didn't seem as accurate as the Coalition's.  The crosshairs did not seem to provide the same amount of precision.  Besides that it was still enjoyable upgrading the items attached to the rail, barrel and base.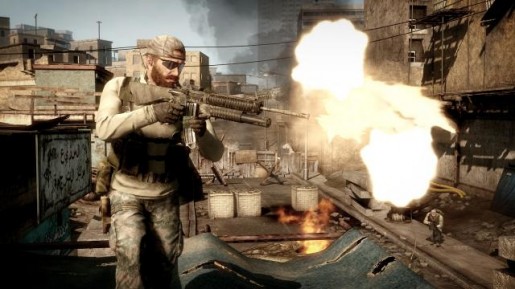 Now we must move on to the shortcomings of the game.  Seeing as how DICE is behind the game's multiplayer it comes as a shock that their infamous level of destruction is absent.  This makes the noob tube and rocket launcher much less effective.  Not to mention that the explosions are lacking unless you can hit someone almost dead on.  So ducking behind a wall is once again your safe haven from RPGs and grenade launchers.  I made sure to say you could duck behind that wall because once again DICE has passed on the prone option.  For many going prone has become a natural instinct in these war games and with the faster pace of this one it is unfortunate that it was left out again.  Also, if you survive long enough to run out of ammo do not rely on picking up an enemy's weapon…at least for now.  The option to pick weapons up off the ground is not available in the beta, but during the E3 2010 demonstration players were nabbing enemy weapons.  It seems that a lot can change in just a short amount of time.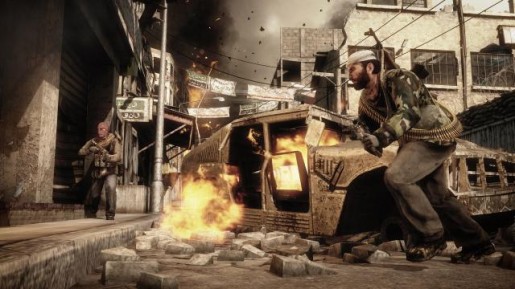 Here's the biggest disappointment.  Medal of Honor suffers from identity loss.  As you read through this article I'm sure you noticed the excessive comparisons to Call of Duty and Battelfield.  The game doesn't really do anything new.  DICE stuck it close to their formula while taking a few notes from Modern Warfare.  The result was the middle ground between the kings of the FPS market.  It really needs to establish itself and stand on its own to bring Medal of Honor's name back full force.  If it's any consolation I did find myself coming back to the game again and again even though it is using a structure we have seen many times before.  This may only be because it is the newest FPS option at my disposal right now giving me an alternative to what I have been playing on and off for the past several months.  Only time will tell if Medal of Honor will be able to stand up with the best later this year.  If you want to experience all of this for yourself then go put your money down at any retailer participating in the beta code bonus offer.  Also, be sure to check back as we will report on any updates or changes to the beta.
Medal of Honor Beta Hands On

,