Ubisoft has just bestowed us with more knowledge regarding their sequel to H.A.W.X.  Players will assume the role of an elite member of the H.A.W.X. 2 squadron.  They will be tasked with completing various missions of the confidential nature.  Ubisoft Bucharest is in charge of development this time instead of Ubisoft Romania.  The game is slated for a Fall 2010 release.  Here's what Ubisoft had to share about H.A.W.X. 2:
DEVASTATE YOUR ENEMIES WITH PROTOTYPE TECHNOLOGY
Use all your skills to command an astonishing array of cutting-edge technology and overwhelming firepower, delivered by tomorrow's finest combat aircraft. From the F-35's vectored thrust capability to the ultra-secret Enhanced Reality System, you'll light up the skies with a suite of experimental technology available only to a chosen few.

GET UP CLOSE AND PERSONAL TO THE WAR OF TOMORROW
See the enemy's canopy shatter as your cannon shreds his aircraft. Feel the thundering impact of your laser-guided bombs as you roar close overhead. War may not be pretty, but it sure looks impressive.

PROVE YOUR METTLE ABOVE THE WORLD'S MOST FAMOUS LOCATIONS
From Moscow to the Persian Gulf, from the Arctic Circle to the Indian Ocean, actual high-resolution GeoEye™ commercial satellite imagery ensures an astonishing degree of realism.

AIR WARFARE BROUGHT TO THE NEXT LEVEL
Fly as an elite tactical aviator:
.. Go head-to-head in close-range dogfights
.. Take off and land on bases and carriers
.. Sweat through night precision bombing
.. Track your targets using silent UAV's then strike from above
.. Use air-to-air refueling in the middle of missions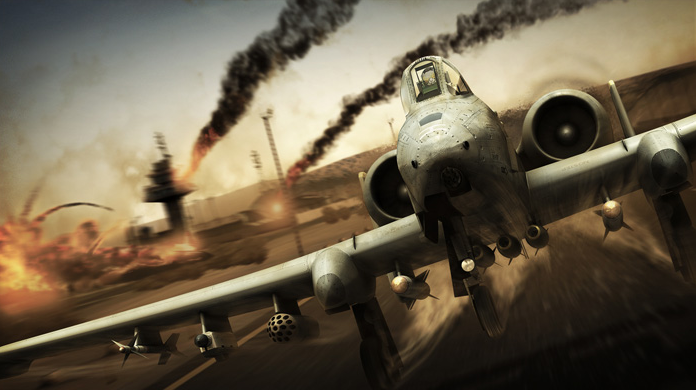 You can visit the official site here.