How many western games can you think of?  How many of those were enjoyable?  Chances are you could count the number of memorable games set in the Wild West on one hand.  Red Dead Redemption looks to lengthen that list.  It has been sitting at the top of wish lists for some time now.  Finally we are able to sit down with a game that has held much hype but even more promises.
The year is 1911 and John Marston has found himself in an unfavorable situation.  Mr. Marston used to run in a gang and that gang became his family.  After a turn of events and disagreement among the members in the gang John left in hopes of living a normal life.  Obviously the change from an outlaw to family man didn't go smoothly and he ends up entering the life of a gunslinger once again.  The government forces him to hunt down his old gang and to ensure his cooperation they hold his wife and son hostage.  Left with no choice John Marston ventures out into New Austin looking to break the bonds to his past once and for all in order to save his family.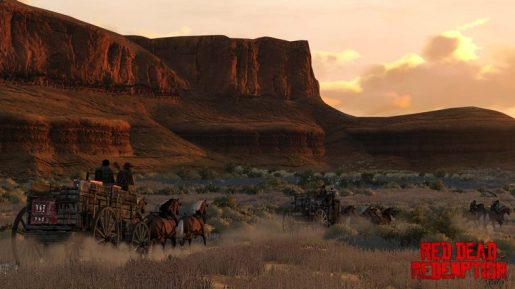 HOT
Open World Redefined
Gameplay: Rockstar has taken their winning formula with GTA IV and set it loose in the Wild West, but not without some upgrades.  Some people may be skeptical of the western setting since it isn't the modern or futuristic setting we're used to seeing.  Those eras allow for creative design choices in weaponry and environments.  So how do old weapons and desert plains match up to skyscrapers and lasers?  They don't match up.  They surpass them.  Rockstar hit pure gold.  Six shooters, shotguns, snipers, rifles, throwing knives, dynamite and pretty much anything else that you've seen in a Western film are available for the player to take on the gritty and violent occupants.  They all carry their own distinct look and power.  Their power is only amplified when the effects are seen on the poor soul who is on the receiving side thanks to the Euphoria engine.  Get up close and personal and you can enjoy some quick kills.  Regardless of what you have you'll be able to make short work of enemies using a combination of Dead Eye and headshots.
Dead Eye is a major gameplay mechanic.  As loyal fans will remember from Red Dead Revolver, Dead Eye is used to slow down time and pick your targets.  Once the targets are selected the game leaves slow motion all the targeted spots are lit up within a matter of seconds.  That's the basic premise in Redemption, but as with everything else it has received an upgrade.  There are 3 stages to Dead Eye.  Stage one slows down time and the player can take shots where the see fit.  Stage two paints your enemies with targets if you hover the cursor over their various body parts.  Stage three is what Dead Eye was meant to be all along.  Time slows down like the previous stages, but this time players can manually set the targets where they'd like with the push of a button.  It's truly satisfying to mark three bandits while on horse back and a flying vulture just because you can.  It easily beats the hell out of Splinter Cell's mark and execute feature.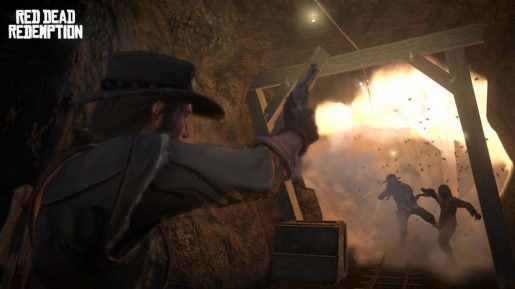 This game does not limit the player in any regard.  If you can think of it chances are you can do it.  There are numerous activities to take part in besides the main story.  There are stranger missions scattered around the map.  These are much like the random encounters in GTA IV except they are a lot more interesting and way more in depth.  You're riding toward your next mission when you happen to stumble upon an aspiring journalist hoping to write about the Wild West hogtied in a mine shaft.  Maybe you'll run into a man who needs help collecting flowers for his wife's 50th anniversary.  There are tons of side missions to check out and the characters in each all have distinct personalities.  You may not even have to activate the mission since sometimes, depending on your level of Fame, people will run up to you and ask for help which immediately initiated a mission that you can choose to complete or ignore.  You really never know who you're going to bump into next or what odd task they'll place in your hands.
If you happen to get tired of running exotic errands for creeps, then you still have many options open to you.  There are gang hideouts scattered throughout the West that are just waiting for Marston to pay a visit to.  Each hideout is run by a specific gang so they will have different looking followers.  Raiding these places always brings a sense of satisfaction.  They are also good locations to find chests containing money or, more importantly, pardon letters.  These pardon letters can be the best friend to anyone who tends to stray from the path of honor and decides to…oh I don't know…shoot and skin the sheriff's dog on his front porch.  The pardon can be turned in at the nearest telegraph office to reset your bounty to $0.  This can be especially helpful when you're bounty reaches insane amounts since US Marshals and the Mexican Army will randomly start chasing you during rides out in the desert.  If you're highly unlucky they'll send agents out to put a stop to your bad behavior.
If you have an itchy trigger finger, but don't feel like fighting Johnny Law for killing a passing pedestrian then take part in the abundance of hunting opportunities available from the beginning.  The game is a believable living and breathing world.  To create this image Rockstar implemented animals in their intricate ecosystem.  While some animals will simply ignore you others will switch the roles of hunter and hunted.  Cougars, bears (including grizzlies), wolves, snakes, coyotes are only a few of the hostile animals that will keep you on your toes while venturing out in between towns.  Every animal can be hunted.  There's more to just killing them though.  Land animals can be skinned and supply you with pelts, skin, fangs and teeth.  There is also a good variety in the birds flying overhead.  Tag one of these and it will fall to the ground allowing you to take its feathers.  These items can then be sold at your local shop in exchange for cash to put toward new weapons, ammo, maps or stat boosters (Ex: The rabit's foot increases your luck by adding 20% to money and items you loot).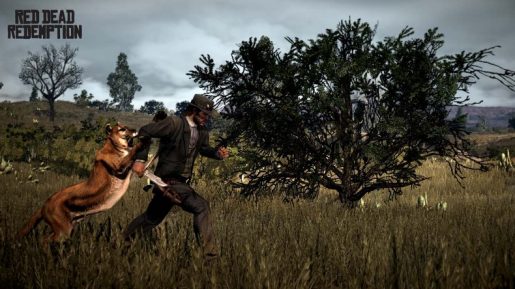 The list of activities isn't complete yet.  If, for whatever reason, what is listed above isn't enough to satisfy you, then be sure to check out what else you can partake in.  The world still has plenty to offer players.  Towns include small activities to try out.  Actually I don't think I should say small since most are elaborate.  Here's a list of several mini games to play: horsebreaking jobs, poker, blackjack, five finger fillet, bounty missions (the wanted posters), nightwatch missions, liar's dice and arm wrestling.  They are all fairly entertaining and if you have the right clothing or skills you'll be able to tip the odds in your favor by cheating in certain games.
Remember this is a free roam game.  You can start making up your own scenarios.  The game allows you to do pretty much whatever you wish.  I started a fight at MacFarlane's Ranch, jumped on a roof, whistled for my horse, then jumped off the roof and directly on to my horse for a hasty, and extremely epic, escape.  Another idea is to take your horse and ride up alongside a train.  Eventually you'll see a button prompt to jump to the train.  Once you board it you can methodically work your way down each section robbing and killing its passengers.  Perhaps you like being a complete boss.  In that case take out your knife and go deep into the wilderness until you get attacked by a pack of wolves and take them all on with your melee attacks.  Reward yourself by skinning them all and selling your excess pelts for a great profit.  This game is full of tools and it's up to the player on how to utilize them to their fullest for the most enjoyment.
Detail: It's easy to see that the content in the game is expansive.  With so much emphasis on scale it's important that there be an equal amount of care put into the details.  The detail present in a game this vast is incredible.  Everything from the clouds lighting up during thunderstorms to the muscle movement of the horses is an accomplishment within itself.  The environments are extremely immersive with the constantly changing weather effects accompanied by the day and night cycles.  It is something you'll have to see for yourself.  It is good to see a developer putting as much detail in the big things like the environment down to the small things like the physics of a poncho on a character.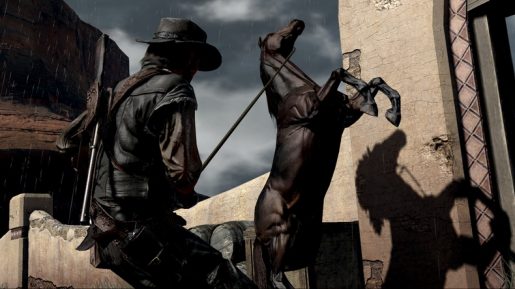 Story: Rockstar has always been good at telling stories.  Red Dead Redemption is no exception.  It is told exactly how GTA IV was told.  You'll complete missions for different characters in whatever order you like in order to meet new people to do missions for.  The story here is one of, well, redemption.  John Marston is trying to leave his old life behind, but is being forced into that lifestyle anyways.  He does this in order to save his family.  So he goes on missions for the government in order to track down his former companion, Bill Williamson.  The story takes many interesting turns and has not one, but several climaxes that will keep you at the edge of your seat as certain sub stories finish and new ones begin.  Apparently Rockstar took the time to analyze the great Western films of the past generations.  The story is solid and it comes together nicely, but what good does a story do if the characters are bland?
Rockstar is famous for their intriguing and unusual characters.  Anyone who played GTA IV might remember the bullshark testosterone addicted Brucie, the sex fiend Roman or Niko, one of the first main characters in a free roam game that players could actually attach to.  John Marston follows in Niko's steps where he is a character that players can easily develop an emotional attachment to early on.  The passion for his family and his struggle to tie up all loose ends of his past take him on an emotional ride including revenge, reunions and above all else redemption.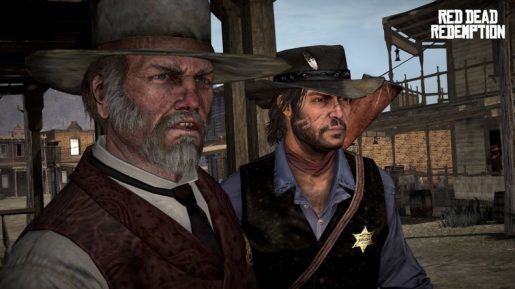 Music: The music that is heard throughout the game couldn't have captured the atmosphere and mood of the Wild West any better.  The music is mainly instrumental with the occasional whistling that is common for Western soundtracks.  Although they are all gems I found myself particularly drawn towards three songs.  During your playtime you will have the pleasure of hearing three songs that have lyrics.  They are not wasted on random roaming however.  These songs are played during major points in the game to really provoke emotion and add to the experience.  If you were one of the many people who preordered the game from Gamestop and have your Deadly Assassin code I highly suggest you go to the website listed on the promo card so you can download the soundtrack for free.
Multiplayer
Multiplayer has to have its own section.  It is just as in depth and addictive as the single player.  Players can choose from private, public or LAN matches.  To keep it simple lets go with the public match.  From here you are thrown into the entire open world that is at your disposal in single player.  Free roaming the map with up to 16 other players acts as the game's lobby.  It. Is. Insane.  You can posse up with certain players so that if a game mode is started you will be teamed up with them.  We'll get to that later.  The map isn't just a blank slate for everyone to roam around.  Players can take on gang hideouts together which result in XP and show results on the screen for each player who was a part of the attack.  Hunting grounds are also there for people to fight off animals.  Each player can start breaking the law in order to fend off local authorities.  If your bounty reaches $1,000 you will become a Public Enemy and a bounty will be put on your head.  This does not only increase the resistance met by law enforcement, but any other player can come end your life in order to claim the price on your head.  It's an interesting concept.
Earning XP works a lot differently than GTA.  XP can be earned (slowly) by filling sheriffs and bandits full of lead.  Holding off the law is a great way to increase in rank at a decent pace.  There is a much faster and more efficient way to do this though.  Much like Call of Duty added challenges to help players rank up Rockstar has implemented a similar feature in its multiplayer (it is present in the single player as well).  There are survivalist, hunter, sharpshooter and treasure hunter challenges to start out.  Rank up and free roam challenges and PvP challenges open up.  The more you complete the more you're given to complete.  It becomes an addictive process.  You can spend hours upon hours in the free roam lobby before you remember that there are other game modes.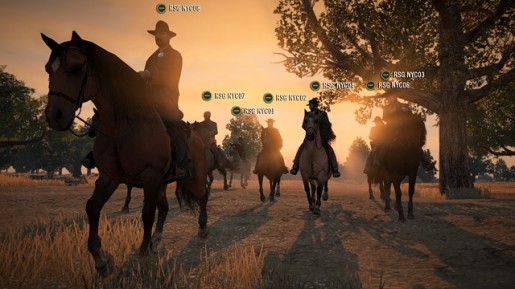 Not all game modes will be available upon start and require that you level up to unlock them.  This is not a new concept to Modern Warfare players.  You'll be able to play most game modes in a free-for-all mode or make it team based using gangs.  Shootout is your basic deathmatch and, as previously mentioned, can be divided into teams.  There is also Capture the Bag which is divided into three sub categories: Gold Rush, Hold Your Own and Grab the Bag.  Each mode is worth spending some time with, but I'm sure a lot of people like myself will get lost in the open world lobby that never seems to become repetitive or boring.
NOT
Swimming
I happened upon this on accident.  I was making a daring escape from the sheriffs and I noticed a waterfall in the distance.  I took my horse toward it, but then they killed my ride.  I hoofed it toward the water and jumped in as they closed the distance between us.  As I contacted the water I died and was sent to the "Dead" screen.  This was unfortunate since Rockstar spent so much time on the details and limitless options for the players.  After my initial, and only, attempt to swim I found no practical use for the action as I progressed through the game.  I nearly forgot about it as I reached the game's halfway mark, but I am sure some people will be annoyed since the lack of swimming hasn't been present in free roam games for a while.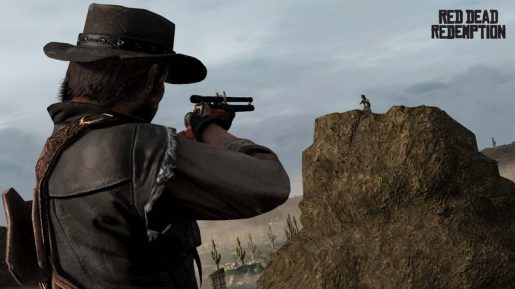 Random Bugs
Some people have reported that the game has problems with pop in and that the PS3 version is not fully HD.  To these statements I say who cares?  Personally I did not even notice the pop in until I really looked because I was too overwhelmed and taken back by the beautiful and detailed scenery.  As for the HD problem, the game given for review was on the PS3 and I still believe the game looked magnificent.  If a slightly rougher texture or small pop in kills a game for you, then that is just depressing.  I have to put these in the NOTs however because I'm sure there is someone out there who cares and it is my job to inform them to the best of my ability.
VERDICT
Rockstar was very ambitious with their newest title and it definitely paid off.  The game may have a couple tiny issues, but this is as close to a perfect game as we're going to see for a while.  The game has a great cast of characters, a compelling story and a vast world that is packed with activities reaching every border of the map while still containing a genuine Western feel.  GTA just got knocked down a peg.  Red Dead Redemption is Rockstar's new poster child and they have once again set the bar for the open world genre.  Do yourself a favor and get this game so you can see the level of devotion every developer should put into their games.
[Editor's Note: Red Dead Redemption was reviewed on a PlayStation 3 platform. The game was played to completion and was provided by the publisher.]
Red Dead Redemption Review

,