According to a GameStop placeholder artwork insert that was recently leaked to the internet, the next title in the acclaimed Assassin's Creed series is given the subtitle of Brotherhood.
The blurb on the back of the insert reads:
Live and breathe as Ezio, now a legendary master assassin, in his struggle against the Templar order. Lead your own brotherhood of Assassins and strike at the heart of the enemy. Rome.

And for the first time, take part in an innovative multiplayer layer allowing you to embody an assassin of your choosing and define their killing style.

A never-before-seen online multiplayer experience.

Lead your own brotherhood of assassins, as Ezio, and conquer Rome.
The insert artwork 'confirms' that it will be on PS3, Xbox 360, and PC. It also features a sticker for a GameStop exclusive pre-order bonus character for multiplayer. Ubisoft have been teasing the game for a while, but haven't announced anything major regarding the title, though I think this is legit.
Although, I think we can rule out the possibility of two certain Alchemy wielding brothers appearing.
[Editor's Note: UbiSoft will officially be revealing Assassin's Creed: Brotherhood next week]
Here's a quick look on the promotional box art: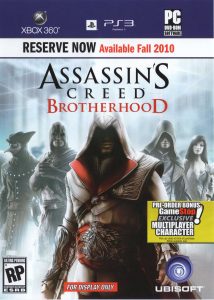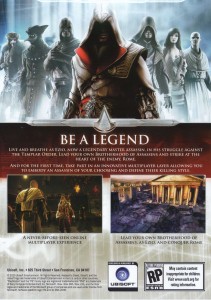 Assassin's Creed: Brotherhood Coming this Fall

,