In order to unlock the Legend of the West Outfit for Marston, one of the things that needs to be completed is to become a Master Survivalist.
Become a Master Survivalist will take players into searching every inch of the map. The goal is to collect different kind of flowers that are scattered throughout the game's environment. There are 10 kinds of Flowers in the game and getting all of them will be a one step closer in achieving that 100% completition and the Legend of the West Outfit.
Below is the the map of where the flowers are located. We will guide you through step by step as you try to become the Master Survivalist.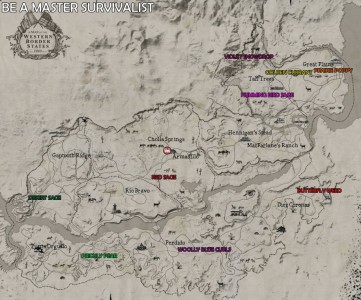 NOTE: Look for the flower blip on the map whenever you are searching for these herbs. Don't forget that you can purchase a Survivalist map that allows you to see all of the locations in 20 minutes.
SURVIVALIST LEVEL 1
(6) Wild Feverfew
Location: Hennigan's Stead and Cholla Springs.
SURVIVALIST LEVEL 2
(6) Desert Sages
Location: Gaptooth Ridge
SURVIVALIST LEVEL 3
(4) Red Sages
Location: Rio Bravo
SURVIVALIST LEVEL 4
(8) Prickly Pears
Location: Punta Orgullo
Be a Master Survivalist in Red Dead Redemption

,