Many Mega Man fans will remember how Mega Man 9's difficulty and cheap deaths made it a game that only appealed to seasoned veterans who had been with the series from the beginning. A year and a half later Mega Man 10 has been released and it looks to gain a wider audience by toning it down a bit in certain areas while still pleasing its loyal followers. The story here is simple. There has been an outbreak of a new virus called Roboenza. Mega Man's sister, Roll, falls victim to the disease and robots everywhere start to turn on the world in an attempt to take complete control.
Long time villain, Dr. Willy, comes to Mega Man and Dr. Light asking for their help claiming that he was working on a medicine making machine to come up with the cure. Putting aside their past Mega Man agrees to help and is assisted by Proto Man. Their journey begins here.
Does this Mega Man live up to the standard of its predecessor or does it fall short of its glory? Here are the HOTs and NOTs.
HOTs
Controls
The controls for this game are perfect and exactly what you would expect from the series. D-pad/analog stick moves your character, Square/Circle makes the weapons fire, and jump is on X. Switching between weapons is easy as you can go back and forth using L1 and R1. The Wii version has players using the Wiimote or the Classic Controler for gameplay. Xbox 360 owners may not enjoy using their D-pad for this game and have to default to the analog stick.
Challenge
For anyone who has enjoyed the series up to this point will not be disappointed here. Sure it is not as difficult as 2008's Mega Man 9, but it does provide enough of a challenge to keep everyone entertained. Levels are designed a little differently than Mega Man 9. There were no cheap death scenarios as everything was laid out well. This is not to say everyone can run through this game and not waste a life. Chances are you are going to die on your first run through at least once, but at least the levels give you enough information to make your next move the right move. One level has random sandstorms blowing towards your character from time to time which push him to the left of the screen. The player must avoid spikes, pits, and enemies while making sure they are in a secure place when the sandstorms engulf the level for a couple seconds. Another level had Mega Man (or Proto Man if you choose him) falling while towards the bottom of a water area with spikes on the walls next to him. As he continued downward the path changed slightly making the player readjust so they did not hit a spike. Newcomers will probably run through these levels experiencing only a few of the game's challenges. Veteran will face even more obstacles to overcome as they strive to collect every bolt and extra life as they aim to obtain every unlockable.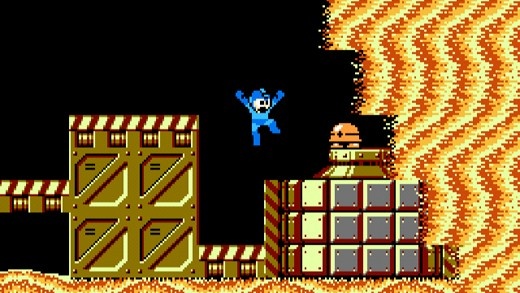 After completing the main story players do not have to resort to making a second run on a harder difficulty to extend gameplay. There are challenges the player can choose to take on and complete for a gold, silver, or bronze crown. 88 of these mini stages are available and can become quite difficult as some require that you defeat one of the bosses without taking any damage. It is these type of challenges that will allow new and old fans to enjoy every level.
Easy Difficulty
Having trouble making it past one level on normal? No problem. There is now an Easy difficulty setting which will allow people unfamiliar with the gameplay mechanics of Mega Man to try out a less punishing version of each level. When the difficulty is set to easy levels are given "safety nets" which are placed over certain instant death spikes or pits. Not all of the obstacles and traps are made safe though so that the player can still get a small taste of the challenges presented to those playing on Normal. Mega Man and Proto Man also take less damage when hit by enemies. These are great for new players because they can analyze the levels in Easy with the "safety nets" to see what to expect from Normal and also gives them a chance to learn enemies' and bosses' attack patterns so that they are better prepared for the harder difficulties.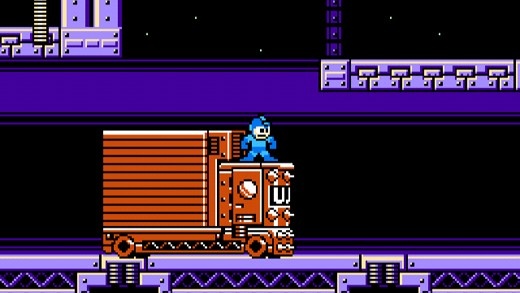 NOTs
Weapons
After defeating each of the 8 bosses players are awarded with a new weapon which is reminiscent of an attack from the slain boss. Unfortunately, these attacks do not seem to be too useful. Actually, they seem to only come in handy against the boss you received the power from. Most players will run through the game using the Mega Buster as it is the universal answer for nearly everything encountered. It would have been nice to see more use of the other weapons. Some are required to gain access to some secret areas, but the casual gamer is probably not going to both accessing them.
Length
Looking at the story alone the game sits between 60 and 90 minutes of gameplay if every crevice is not searched for bolts and lives. For $10 this really is not too much game time. Yes, the challenges add much more than 90 minutes to the game, but only long time fans are likely to invest their time in to getting gold crowns as they can become quite difficult.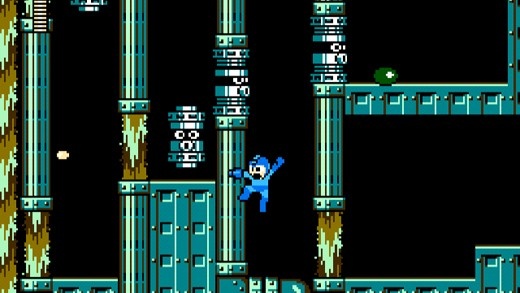 Verdict
Mega Man 10 does not raise the bar like Mega Man 9 did, but in exchange for its innovation the game became more inviting to new players. With the addition of an Easy mode and a far less punishing level design the game is sure to grab a whole new audience. Mega Man veterans have no reason to fear as they were not forgotten. Higher difficulties and an insane amount of challenges with varied tasks are sure to please them. If you have been with the series from the beginning, then you do not need any more convincing. For those on the fence about it and looking to get old school once again this game is highly recommended.
[Editor's Note: Mega Man 10 was reviewed on the PlayStation 3 platform. It was given to us by publisher for review purposes. Mega Man 10 will be available on the PlayStation Network, Wii Ware, and XBOX Live Arcade. The game was played upon completion!
Mega Man 10 Review

,