In a world dominated by Modern Warfare and Battlefield not many people take the time to really look and see where these huge titles originated from. Infinity Ward has taken time to remaster an old classic to remind you of where the Modern Warfare series came from. Call of Duty Classic is a ported remake of the last generation Call of Duty: Finest Hour, but can this old veteran still make an impression today? Let's take a look at the Hots and Nots of this classic game.
HOTs
Graphics/Design
For a PSN game ported from the PS2 this game looks really good. It also has a tremendous amount of detail for a last generation game. There is a high variety of weapons and each one is detailed with its own unique half and full reload. The controls feel right at home and are the familiar controls from the Call of Duty series. It has the same button layout minus a mapped grenade button and sprint button. Gamers who are accustomed to the tight controls of Modern Warfare will have no trouble jumping right into this game without much of a learning curve.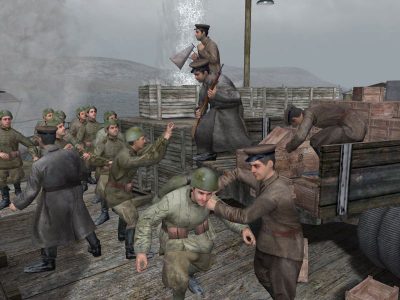 Multiplayer
A new feature added into Call of Duty Classic is the addition of online multiplayer. You are no longer limited to playing splitscreen with a friend or two. Another thing about the multiplayer is the return of old favorite game modes such as team death match and search and destroy as well as a one called behind enemy lines. This game mode pits a handful of Allies against an opposing force of axis soldiers. It encourages the use of teamwork to survive the onslaught of hostiles.
NOTs
Too Classic?
Even though this game has a lot of good features some of today's gamers might not like the older look and feel of this game after playing some of this generation's technical powerhouses. The present health bar makes picking up scattered health packs a chore seeing as you do not regenerate health. The game also lacks a sprint feature which makes the game feel slower paced. As small as these things are they make a big difference since most people have learned to rely heavily on regenerating health so they can keep up the fast paced action of run and gun.
"Holding Factor"
As nice as it is to revisit a classic that got one of the biggest gaming franchises in history rolling the game just does not have the "holding factor" that today's games have. There is not much replay value aside from collecting trophies/achievements and the multiplayer does not share the same addictive nature of the newer generation of Call of Duty games.
VERDICT
Although this game is a nice blast from the past it will most likely not be enough to pull you away from this holiday's releases.  It has a solid single player and multiplayer, but I believe most will not downgrade their FPS experience with Modern Warfare 2's superb single player and multiplayer reigning supreme. If you are looking for a change of pace and feel like seeing the series' origins, then I would recommend buying this once it drops to $9.99.
[Editor's Note: Call of Duty: Classic was reviewed on a PlayStation 3 platform. The game was supplied to us by the publisher.]
Call of Duty: Classic Review

,