Some of you might remember Eat Lead: Return of Matt Hazard.  It contained multiple video game parodies as it took gameplay elements and familiar locations from the past seven years of gaming.  If you loved the game then listen up.  It's Hazard time once again.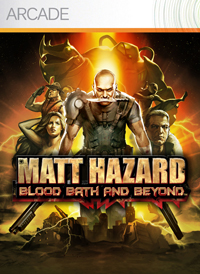 Matt Hazard: Bloodbath and Beyond has been announced for the PSN and XBLA.  It will be a side scrolling action game for "hardcore video game fans".  Matt Hazard will be returning once again to face off against his greatest enemies using an updated and vast arsenal.  The same comedy is still present this time around as one of the types of enemies you will face off against are killer penguins.
Features:
• THE ULTIMATE ARCADE ACTION EXPERIENCE
Classic side scrolling action meets gorgeous 3D environments and modern, over-the-top combat, including background targeting. A dynamic tribute to the greatest action arcade games of all time.

• BECOME VIDEO GAME HERO MATT HAZARD
The "greatest hero in the history of video games" returns for a final showdown with the diabolical, nefarious, and villainous General Neutronov.

• TONS OF WEAPONS. TONS OF ENEMIES
Timeless tools like flame throwers, rocket launchers, and lasers rip apart an onslaught of classic and new video game enemies. Starring mutant penguins, evil ninjas, naughty cowboys, and giant Bosses like the 200-foot-tall mechanical Rhino-zilla.

• EVIL ENVIRONMENTS COME TO LIFE
Pirate hideouts, Siberian ice mines, outer space and more. Beautifully rendered with tons to destroy.

• 2 PLAYER CO-OP GAMEPLAY AND ONLINE LEADERBOARDS
Play side-by-side with friends and track high scores online
There is currently no official release date for Bloodbath and Beyond, but be sure to check back regularly for new information.