Gameplay mechanics are often mimicked and recycled in today's games. We've seen games copy each others ideas and most of the time, it's either a flop or a success. Borderlands is a game that recycles a lot of things from other titles such as Fallout 3, Call of Duty and Halo.
Borderlands follows the story of four treasure hunters, set in a wasteland called Pandora. Legends tell of a treasure that is somewhere in Pandora called the "Vault". The Vault can grant infinite wealth and power once possessed. The hunters who are trying to find this treasure are called Vault Hunters and they are guided by a guardian angel.
Finding treasure is a good idea in Borderlands but can you find happiness and excitement with this game? Let's take a look in the HOTs and NOTs of Gearbox's Borderlands.
HOT
Presentation
One of the things that I love about this game is the cell-shaded graphics. The environments are very detailed with vibrant colors and the character models are a pleasure to look at. The graphics are smooth and I never experienced any graphical issues or glitches. Borderlands has an old west feel to it, right down to the accents and clothing. This is not bad however because the voice-overs done in this game are phenomenal.
Challenges, Missions, etc
Borderlands is a first person shooter / role playing game so expect it to be lengthy. With the RPG elements implemented in this game, expect the level up process to be slow. A player levels up through killing the Skags, raiders, bandits, or doing missions in the Wasteland. Each of them has its own level and depending on how strong the weapon you have is, the easier it will be to kill them.
The currency used this game is US Dollars and money can only be acquired through the enemies you kill or selling the loot you get from them. Since you are a treasure hunter, looting will make your life as a hunter easier because with a lot of money, comes with more power. The vending machines that are available can be used to purchase ammo, upgrades, weapons, and a lot more. Throughout the game, the shop will have different kinds of goodies available.
Completing story missions will progress you through the game. Similar to past RPGs, you get missions by talking to people. In Borderlands, you can also get missions through the Bounty Board posted in each town. The missions listed have level requirements so you'll have to maintain a certain level to continue story progression
Similar to FPS games, there are Challenges that you can unlock while playing. Challenges from killing enemies using a rifle 10 times can unlock an achievement or trophies. If you are perfectionist and want these challenges unlocked, this is a good feature. Just remember there are more than 30 challenges that you can unlock. The more you use the weapon, the stronger it will get.
Just like any other RPG games, raising the character attributes helps the overall performance of your character. As you level up you get skill points that you can use in the character's skill tree. The skills that can be purchased vary from increasing the damage of each bullet to raising your health.
Whaaaat? I can't die?
Dying is not an option here. When you get killed in the battlefield, you will have an option similar to Call of Duty's Last Stand where you can kill an enemy while you're down until the meter drops down. Kill an enemy while you're down successfully and you will be granted a second chance to get up. If you fail, you will respawn at the place where you started.
Multiplayer
The strongest feature in Borderlands is the multiplayer. Playing up to four people at the same time is a neat idea. Before you start the game, there are four characters that you can choose from. Each of them has a different class and weapons that they can choose. Whatever fits you best, pick it because if you have a friend, they can just jump in while you're playing and help you. There is also a vehicle in both single player and multiplayer that is reminiscent to Halo's Warthog.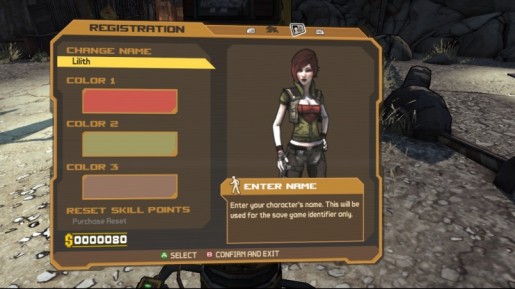 Borderlands is designed for co-op because there are times in the game that it can get lonely. Let's take driving the vehicle that needs two people as an example. This vehicle reminds me of Halo's Warthog because one can be a driver while the other can use the turret. If you have a lot of friends, the multiplayer of Borderlands is a must!
NOT
Story is weak
Every RPG comes with a great story and plot but with Borderlands the story fails. I'm not saying that the game doesn't have a story because it does, the problem is that it's shallow because the game is more focused on the action rather than developing a story.
Not realistic
It takes more than the whole clip sometimes to take one enemy down. Depending on the level of the enemies you encounter it might take a lot of bullets to take them down. There is no one shot kill here unless the enemies you're trying to kill are a really low level. Doing a headshot will be considered a critical hit instead of instant death. Don't expect any realistic shooting here.
FYI…
Recycled
This is not a bad thing or will affect the score of the game. I just want to point out that Borderlands is a game where big titles such as Fallout 3, Call of Duty: World At War and Halo comes into play. Gearbox took all of the good stuff from these games and implemented them in Borderlands to create a blockbuster game. Play it and you will know what I mean.
VERDICT
Despite the fact that Borderlands has what I consider recycled elements, it doesn't fail the expectations and hype surrounding it. Borderlands is a must have for any gamer who loves first person shooters and RPGs. Love Fallout 3? Call of Duty? What about Halo? If you say yes on all three, then you must get this. Borderlands might not win game of the year, but it is a great game that everyone cannot pass up.