When I first saw WET at E3 I was ecstatic, and I couldn't wait to try it out. However, when I played the demo for the hands on impression, I was anything but impressed. I wasn't the only one, a lot of gamers voiced concerns over how well the final game would be after trying out the demo. The biggest complaint was that the gameplay was simply too repetitive, offering no variety and a combat system similar to Stranglehold. After completing this game, I can safely say that, while similar, WET is indeed better than Stranglehold, but that's not saying a whole lot.
The story is your basic gun-for-hire is betrayed and now wants revenge. Rubi Malone is our badass, gun totin' heroine of the story. You'll battle your way through various levels and a few challenges to uncover all the secrets and unravel this mystery. The story is ok, but it won't be winning any awards. But how's the gameplay? Is it repetitive like the demo would lead you to believe? Or is it a great action title with tons of extras and variety. Let's take a look at the HOTS and NOTs of WET.
HOT
Presentation
The graphics aren't stunning, and don't come close to matching those of other action games like Devil May Cry 4 or Uncharted: Drakes Fortune. What WET lacks in graphics, it makes up for in atmosphere. From the scenery to the characters and soundtrack used in the game, everything is blended perfectly to bring the player into this world. The voice actors do a great job as well, bringing these characters to life and giving them each unique personalities.  The presentation is reminiscent of a 70s action flick, and it does a great job of giving off that grindhouse feel during the cutscenes.  Between each chapter, you'll be treated to a fake retro commercial that only adds to the games personality
Great Soundtrack
The soundtrack is just too awesome. It primarily consists of 70s pop-rock, again going back to it's unique style.
Challenges and Extras
After the completion of the main storyline, two modes will be unlocked, the Challenge arenas and the Points mode. You can test acrobatic skills while gunning down the target in a certain amount of time. It's a nice extra for those who love creating new combos, though personally, going through these challenges in the main story was more than enough.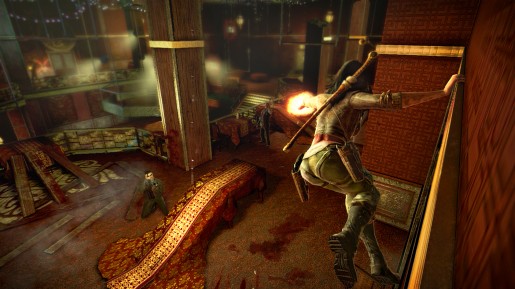 Quick Time Events
Though most people despise them, there's nothing I love more than a great Quick Time Event or QTE. Like most action games,
WET
has its fair share of QTEs. Sometimes they take place during boss battles, and other times during events like car chases. One gripe I have is that they aren't random, so once you've figured out the pattern, you'll always know what to expect. It totally takes the tension away for anyone playing through more than once
Decent Length.
For an action game, WET has decent length. I clocked in at a little less than six hours, so this is won't be hard to complete in a rental. There are 12 chapters total, and some are painfully short. However, you can get some more playtime by completing all the challenges and obtaining all the trophies/achievements.
Real Action Star
I have to say, I really like the Rubi Malone character. Lara Croft never truly felt like an action hero, but Rubi fits in perfectly as a gun slinging badass. Her moves are fast, fluid, and deadly, and her attitude matches. The game has its shortcomings, but I hope we get to see Rubi again, because she's one of the coolest video game characters I've seen in recent years.
NOT
Repetitive Gameplay
Have you played the demo? If yes, then you pretty much have seen everything WET has to offer. The gameplay is horribly repetitive, and the worst part is, it rarely changes itself up. You go into a room, perform some cool stunts whilst doing some fancy moves with your guns. You take the enemies out, then head into the next room and repeat the process.
Different moves will get you stylish points. Stylish points are used to upgrade your weapons, the handgun, the shotgun, the SMG and the crossbow. Stylish points can also be used to pick up more moves, but in the end it's all just cosmetic.
There's also rage mode. At certain points, rage mode can be activated, and while in this mode Rubi is able to deal even more damage and chain together tons of attacks. The screen effects are pretty nice during rage mode. You get a mostly red screen and a rocking soundtrack to go with it. The higher your chain, the more stylish points you receive once rage mode ends, so it's best to really give it your all when in rage mode.  However, this is nothing we haven't seen in countless other action titles before, its cool, but nothing groundbreaking.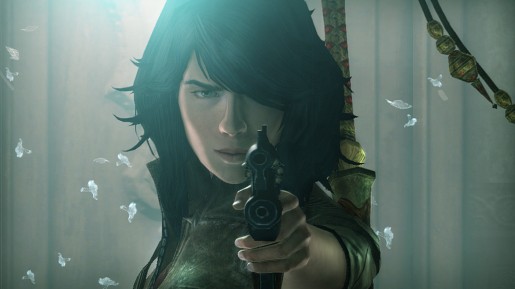 Dumb AI
This is a problem that plagues way too many games, and is often a breaking factor. The AI in this game is stupid. Most of the time the enemies will just stand out in the open and wait for you to kill them, not bothering to take cover or make any attempts to protect themselves. Yet at other times, the enemies will overwhelm you, flocks of them coming out of the woodwork and firing in all directions. Honestly, this AI just seems more random than anything, and often times it's just annoying.
VERDICT
If you can get past the horribly repetitive gameplay, WET is a decent action game with some nice visual flair and fun storyline. Sure, the game has some similarities to Stranglehold, but they are minor at best. WET does a good job of separating itself by having a unique look and an awesome main character. If you're an action fan looking for some decent acrobatics and fast paced gunplay, then WET is certainly the way to go. Hopefully this won't be the last we see of Rubi Malone.
[Editor's Note: WET was reviewed on a PlayStation 3 platform. The game was provided to us by the publisher]
WET Review

,