For the gamers wanting to import Demon Souls for the Playstation 3, you may want to hold up and listen to this exciting information from Atlus regarding Demon Souls. Atlus has revealed today the goodies you will be getting if you decide to pre-order the game at your local participating stores. Whether you will be getting the regular and deluxe edition of the game, you will be getting the same goodies when you pre-order it.
– A full 40-page artbook featuring sketches and designs will be one of the pre-order goodies you will be getting. It is a great incentive if you love art books.
– In addition to the artbook, you will also be getting a soundtrack that will feature all of the atmospheric and haunting sounds of the game.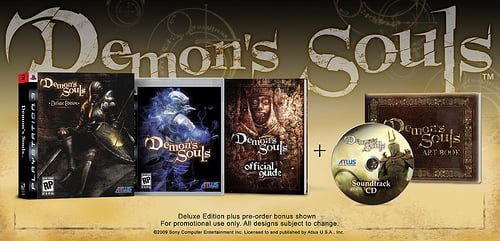 For the people who will be getting the Deluxe Edition of Demon Souls, you will be getting these + the pre-order goodies:
– 150+ page strategy guide
– a collectible slip case
– the game's complete musical score
– premium art book
Just a quick note for the people who are thinking to import it… The US version of Demon Souls will have a better translation of the game and it will have an American servers where only the people in the US can join.