With White Knight Chronicles now available in all retail stores, I'm sure a lot of you bought this game solely for the online co-op mode that allows you to team up with up to four players online. Before starting your online adventure, there are a few things that you should know before starting off on your adventure.
Geonet, is the online hub for White Knight Chronicles that allows you to search, post messages to other users, read logs, join quests and a whole lot more. When I first logged in via Geonet, I was kind of confused with the interface. Now, I would like to present a brief guide of the Geonet feature in White Knight Chronicles:
HOW TO ACCESS GEONET
Geonet is only accessible via two things; the Save Point (Logic Stone) and World Map. When you're in the middle of a battle, the Logic Stone is not accessible until all enemies are defeated. Not only can the Logic Stone be used as a Save Point, but it also allows you to re-customize your Avatar (via a special key that can be purchased on the PlayStation Store), go to the World Map, Heal and repair the equipment of your characters.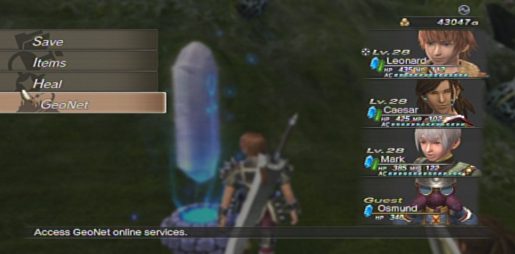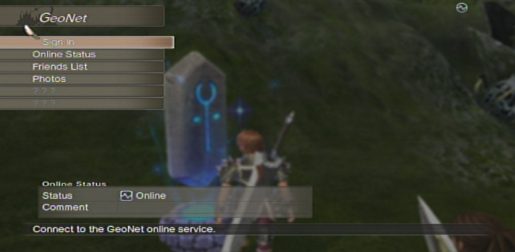 ONLINE USER AGREEMENT
Before you can log in via the Geonet, as always, you will have to AGREE to the USER AGREEMENT. This will be done everytime you log in. Kind of annoying eh?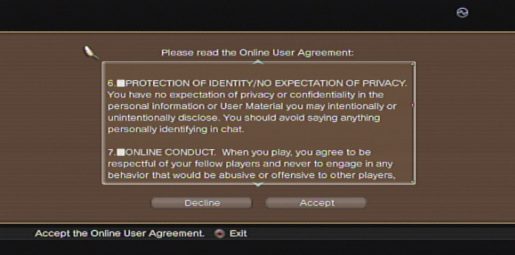 Exploring the Home Page
As soon as you finished entering the necessary details such as your Online ID and background, you will then be transferred to your home page. Here are the list of menus that are available on the Home Page:
MAIN PAGE
This is where all of your information is highlighted; Trophies acquired, to check if you have messages, your character's name, guild rank, and the level of your character.
ADVENTURE's LOG
You can post and share your adventure to the rest of the world.
HOMETOWN
This will be the place where you can create rooms and team up with thousands of players around the world. You can search, customize the rooms, or just hang out with people in a small town. The best place to party and meet new people.
FRIENDS
Please note that you will have a separate FRIEND LIST here. You will have to invite the people that you've met in WKC manually in Geonet. Friends on the PSN won't be imported automatically to your list in GEONET. You can invite and block friends here.
LATEST LOGS
This will act like a diary for all your adventures. Your friends and the rest of the world's logs will be posted here.
MESSAGE BOARDS
If you want to make a clan, team up with other people or just want to chat with the people playing WKC, this will be the place to post stuff up.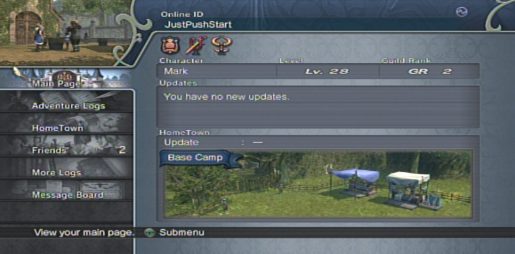 EXPLORING THE TOWN
Once you are in someone's town, this is the place where you can make friends, prepare for the coming adventure by purchasing equipment, or just hang out. By going to the Quest Officer near the entrance of the town, you can either join the quest that people are already undertaking or create one yourself. The quest group that you will be making can be customized by having how many players you want it to have, or maybe you want your group to be password protected.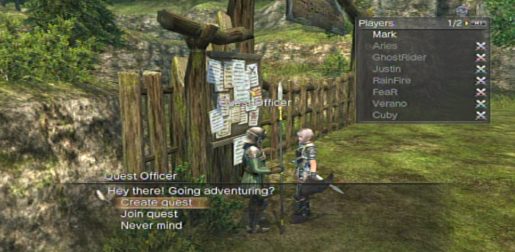 FREQUENTLY ASKED QUESTIONS
How do I get more recipes?
Recipes are the essential item in the game to have plenty of things to choose from when making items. To get more recipes, you can go to the Frog that bind things and donate items to increase your members rank. By donating good items, your member rank points will increase allowing you to get new recipes every time it levels up.
How do I get more quest?
Quest can be purchased in the Guild House in the story mode of the game. Aside from the upcoming DLC, you will have to increase your Guild's rank if you want to have a lot of quests to choose from. Once purchased, it will be unlocked in the world map.
Submit your questions @ pr[at]justpushstart.com