Let's face it! Mega Man 10 is no different than Mega Man 9. It's still hard as f*ck but thanks to the new "Easy Mode" it gives everyone an opportunity to finish the game without the idea of crying due to its difficulty. Just like other Mega Man games, every bosses that you defeat gives you a weapon that they used and that weapon can be used to other bosses!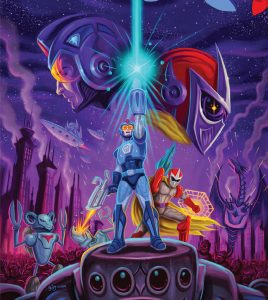 Do you know what weapons gives you an advantage when facing a boss? Let's take a look on the eight bosses of Mega Man 10.
Blade Man
Use Commando Man's Commando Bomb.
Strike Man
Use Blade Man's Triple Blade
Commando Man
Use Nitro Man's Wheel Cutter
Pump Man
Use Sheep Man's Thunder Wool
Sheep Man
Use Strike Man's Rebound Striker
Nitro Man
Use Chill Man's Chill Spike
Chill Man
Use Solar Man's Solar Blaze
Solar Man
Use Pump Man's Water Shield
TIP!
After finishing any of the four bosses, you will get another weapon called, Rush Jet.
Mega Man 10 Boss Strategy Guide

,