Marvel vs. Capcom Origins Review
Good: Two For The Price Of One, Graphics Still Awesome, Gameplay Unchanged, Lots of Extras To Unlock,
Bad: Less Characters, Pretty Difficult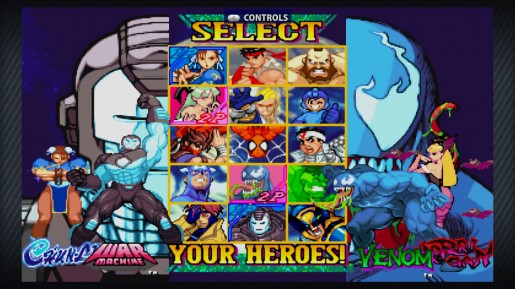 Lots of Extras To Unlock
Something that the original arcade versions of these two games didn't include is the opportunity for you to unlock extra bonus content. The more you play the game, the more points you will earn that will allow you to spend in the Vault. The Vault includes a lot of cool extras such as character artwork and endings, movies, posters and even some bonus playable characters. This was something that was sorely missing when Marvel vs. Capcom 2 was re-released for the PSN and XBLA back in 2009…
Not
Less Characters
For those of you that have played Marvel vs. Capcom 2 and 3 plus Tekken Tag Tournament 2, you might be disappointed by the number of playable characters that are available in both Marvel vs. Capcom and Marvel Super Heroes. Marvel vs. Capcom has only 15 core playable characters (minus bonus characters) while Marvel Super Heroes only has 10. This is pretty small compared to the over 50 characters that its sequels have.
Pretty Difficult
I already mentioned that the gameplay has remained the same, well it appears that the difficulty remains as well. Even if you're a complete novice at 2D fighting games, lowering to the easiest difficulty won't do anything much because you will still have a very hard experience trying to beat the A.I. Thankfully you can unlock each of the character endings via the Vault because the end bosses are nothing compared to the fighting games we see today. The end bosses in '90s video games will always remain painfully hard!
Verdict
Marvel vs. Capcom Origins is without a doubt a great bargain for any fan of old-school 2D fighting games from the '90s. Both Marvel vs. Capcom and Marvel Super Heroes play exactly like they did back in the arcade machines and the graphics from both games still look great. If you want to unlock everything from the Vault, there are hours of gameplay on offer here. It may be difficult for some gamers and there aren't as many playable characters here, but this does not stop Marvel vs. Capcom Origins from being an enjoyable game.
[
Editor's Note:
Marvel vs. Capcom Origins was reviewed on the Xbox 360 platform. The game was provided to us by the publisher for review purposes.]
Marvel vs. Capcom Origins Review

,