Guild Wars 2 Impressions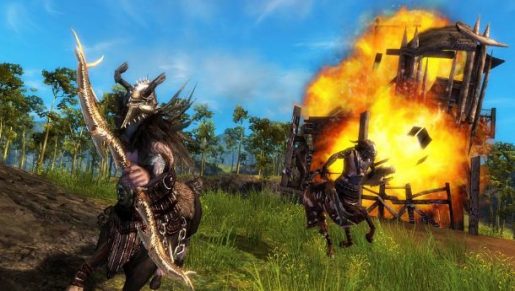 As mentioned earlier, each of the characters have their own story to tell. With me being a human, I may have story missions that are different from other people that I'm seeing in the world. When doing story missions for your character, other people can join if they're in the same group. Otherwise you are free to do the mission by yourself. For story missions, you will see that the story is polished enough for everyone to care about. It may not be as appealing as when doing an instance together, I guess it's for the best to do a story mission all alone to enjoy what it has to offer. However, when it comes to quests that you take from the people in the world of Tyria, you'll see people helping each other taking down enemies with you. There's no steal-killing in this game, as everyone works together when they're not doing missions.
For missions, they will appear in the map that you can move from if it's activated. To open up more missions, seek out the scouts with a telescope icon on the map. When you talk to them, they will reveal you the places that needs your attention through a heart marker. If you don't want to do any missions and just want to see the world of Tyria, you are free to explore the world and activate the checkpoint spot for later revisting.
Leveling
As with all MMORPG games, you do gain experiences for almost anything that you do. Regardless if you just discovered a new area or went to the checkpoint mark in the map, you will gain experience. That being said, leveling in Guild Wars 2 isn't so different as you pretty much need experience points. For every level that you achieve, you will get to upgrade skills that your character can use. Skill Trees somewhat exist in the game but they're not as laid out well than in other MMORPGs. Each of the hot keys on screen are set to a different kind of skill and with it, only one can be used on the same category.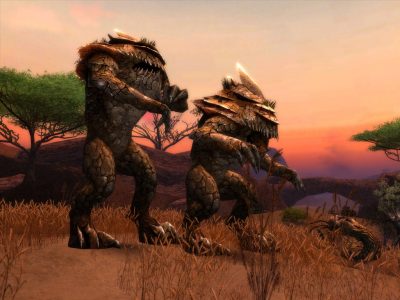 Unlike in other MMORPGs, you will have to worry about grouping and issuing /invite commands. In Guild Wars 2, you don't have to worry all about it as when you see someone killing the same monster that you're supposed to kill, anyone can join in. As for distribution of loots and experience points, everyone gets it. No need to set the group loot to everyone or roll the dice. What you have on screen is what you're going to get.
Dynamic Events
One of the things that I like about Guild Wars 2 is the dynamic events that happens while I'm playing. To make the game somewhat more of a co-operative, you will encounter some events while you're doing missions that will allow you to team up with random people near the area. The random events is pretty much the dungeon raids in Guild Wars 2 where almost everyone on the map can join in. For every dynamic events that you do, everyone who participated will be awarded with a medal, in which they are awarded depending on the group performance, experience points, karma points that you can use to buy special items from the people you did quest on, and of course gold.
Verdict So Far…
Coming from someone who has played several MMORPGs, I find Guild Wars 2 to be a much better game than World of Warcraft. The dynamic events makes it fun for me as there's a lot of variation to it. While the dungeon raids are missing, dynamic events made it up for me as playing with people is fun and never gets old. Another aspect that I like about Guild Wars 2 is the way the story is told for my character – they are engaging, and doing them is not boring since the majority of the events have voiceovers. So far, Guild Wars 2 is in my top MMORPGs that you need to buy. Stay tuned for more impressions throughout the month.
Page 1 2