Persona 4 Arena Review
Good: Stays True to the Series, Fantastic Artwork, Action Packed Music, Plenty of Unlockables
Bad: Story is Dialog Heavy, Lack of Modes, Controls
User Score
7.0
(4 votes)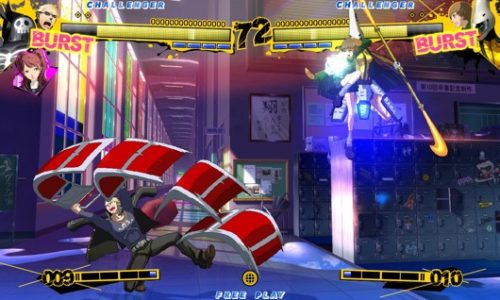 NOT
Story is Dialog Heavy
Simply put the story explains how everyone ended up participating in this tournament and the events following that. RPG fans will most likely love this mode, as there is a lot of dialog. This is sometimes broken up by a small animated scene or having to fight someone, but they can be rare. The main problem is how much time you'll spend reading dialog.
While you might find this hard to believe, it's not uncommon to spend over 20 minutes reading dialog before a fight. Most fights are pretty short, so you can expect them to last only a minute or two. After that you'll be back to reading the story, though you will be pleased to know it's pretty interesting.
Lack of Modes
If you're looking forward to a number of modes you might be disappointed to learn there are very few. While there are 8 total modes, sadly they don't add much. The first is lesson, which gives you some of the games basics. Then you have story mentioned above and of course arcade. Next you have score attack, but it's virtually impossible without skill. Next you have the standard challenge where you have to enter certain inputs correctly and finally you have an online / offline versus mode. Sadly none of the modes really change the game, so don't expect something like abyss mode.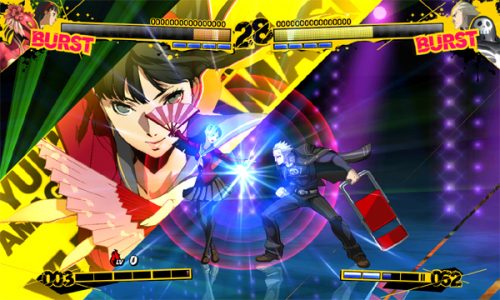 Controls  
Easily the worst part of Persona 4 Arena are the controls. This is because they tried to make it more accessible to newcomers. With this in mind they basically set weak attack up as a combo button. By simply mashing this input you can perform a fairly long combo and in some cases even finish it with a special attack. Sadly this means many people will rely on this for victory. However the real problem lies with the finishers.
As mentioned above finishers are an epic way to instantly win the fight. Similar to Blazblue they can only be performed on the final round, but unlike Blazblue they're pretty easy to perform. This is because you only need it to be the last round and have at least 100 special. However you can instantly get 100 special by connecting a burst or gain 50 by being awakened (sub 35% life). From here performing it is a simple input (down, down, down, both persona attacks) and hope it connects. Certain characters are easier to avoid than others, though you can't stop someone during their instant, so it's dodge or die. This can get really annoying if you just play the game normally.
VERDICT
Persona 4 Arena is surprisingly good and RPG fans will most likely enjoy it. While the dumbed down controls are annoying, you can simply learn how to deal with people using them. Additionally you can use one of the games resources to further enhance your skill. Despite the problems, RPG / Fighting game fans will surly enjoy it regardless.
[
Editor's Note:
Persona 4 Arena
 was reviewed on the PS3 platform. The game was provided to us by the publisher for review purposes.]
Page 1 2
Persona 4 Arena Review

,