Rhythm Thief & the Emperor's Treasure Review
Good: Captivating Story, Gorgeous Presentation, A Mix of Gameplay, Catchy Music Beats, Lots of Things to Do
Bad: Not So Original, Unbalanced Scoring of Mini-Game
User Score
9.5
(2 votes)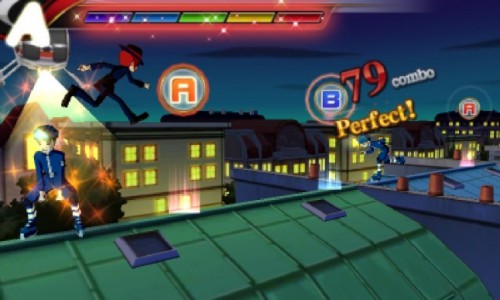 Catchy Music Beats
One reason why I love Rhythm Thief is the amazing music beats that it has. While the soundtrack isn't as phenomenal as the ones found in Theatrhythm Final Fantasy, the game has a very good mix of techno and jazz that will get into your head until you start going along with it. The beats and the way Sega tackled it when it comes to following it on the bottom screen is almost perfect that it has become my favorite Ryhthm game.
Lots of Things to Do
In addition to tackling the story mode that the game has to offer, it has other things that you can do after finishing the game. Assuming that you didn't do well on the over fifty music-based games, you will have an opportunity to replay it and have a streak of A grade. Another thing that you can do within the game is to challenge friends into a battle, assuming that you have a friend locally that plays the game as well.
NOT
Not So Original
I must admit, Rhythm Thief is a fantastic game but it's not the most original game that you will play. For the most part, I've always thought that in the hours that I'm playing the game, what I'm playing is a Professor Layton game. Everything from its presentation, the designs of the gameplay, and the way solving puzzles, there are too many similarities that I cannot consider it as an original game. However, what's good about Ryhtym Thief is the inclusion of the rhythm genre because for a puzzle-adventure game like Professor Layton, adding music-gameplay to it will surely work well.
Unbalanced Scoring of Mini-Game
Since the game is all about doing music-basead mini games, you will be scored on how well you do and at the end and you will receive a letter grade. What annoys me the most when playing the game is the inconsistency on how the performance is graded. No matter how many perfect streaks the player does, the moment you miss two or three times, from the A rank, you will drop easily to C or even D. Yep, that's how inconsistent the game is.
VERDICT
For Layton fans who are seeking somewhat of a unique experience like adding music-type of gameplay, Ryhthm Thief will give you that experience. Despite the game's unoriginality as it follows the footsteps of Professor Layton, the game still does a lot of great things like in its 3D anime-look visuals, addicting music mini-games, and challenging puzzles. Overall, regardless if you're hesitating about the game, Rhythm Thief is a must have game for fans of the music game genre.
[
Editor's Note:
Rhythm Thief & the Emperor's Treasure was reviewed on the Nintendo 3DS. The game was provided to us by the publisher for review purposes.]
Page 1 2
Rhythm Thief & the Emperor's Treasure Review

,