Spec Ops: The Line Review
Good: Gripping Dark Narrative, Sand is Your Best/Worst Friend/Enemy, Solid Multiplayer
Bad: Poor AI, Incredibly Short Campaign, Various Bugs/Glitches
User Score
8.8
(4 votes)
NOT
Poor AI
The AI present in Spec Ops: The Line does very little to impress and can vary greatly from situation to situation. This applies to both the enemies and Captain Walker's comrades. Let's first take a look at the enemies. The Damned 33rd are decorated soldiers and, therefore, are not the everyday insurgent just learning how to use a gun. Instead, these soldiers will come at you with everything they've got… or at least they should. Sometimes their accuracy is so spot on, it's impressive. Then there are other times when they will spray the cover in front of them or just stand still facing away from the player. You really never know which type of enemy you're going to face when you enter each combat scenario.
Much more annoying than the enemies, we have Walker's team. Luga and Adams suffer from the same deficiencies as the opposition, but it's far more frustrating when the performance of two soldiers you should be able to command efficiently provide varied results. Lugo takes care of long range sniping and Adams is more of an up-close-and-personal kind of guy. There will be times where they will execute their roles perfectly, but a good portion of the time they'll butcher it. To really get a feel for how poor the AI is, try playing the game on either the Suicide Mission (Hard) or FUBAR (Very Hard) difficulty setting. Designate a target for your squad and watch them ditch cover and lose all longing for self preservation. You'll watch them enter the downed state many times where they'll need to be revived, especially on the FUBAR difficulty. Following the exceptional tactical shooter Ghost Recon: Future Soldier, Spec Ops: The Line's command system feels half-baked and doesn't provide nearly enough control to do anything most would consider "tactical".
Incredibly Short Campaign
Remember how I said the narrative reeled me in? Well, that all happened in about three and a half hours. The game was completed three times on three different difficulty settings and the completion times were very close together. I've laid them out below:
Combat Op (Normal): 3 hours 36 minutes 11 seconds
Suicide Mission (Hard): 3 hours 36 minutes 8 seconds
FUBAR (Very Hard): 3 hours 32 minutes 22 seconds
As you can plainly see, there was very little variation in completion time regardless of difficulty. The average gamer should be able to complete the campaign in 4 or less hours. With games retailing for a hefty $59.99, us gamers need to get our money's worth. Sixty bucks for three and a half hours just doesn't cut it. That is, unless you plan on making multiple playthroughs and sticking with the multiplayer for the coming months. There are those who can play games several times over and amass countless hours replaying missions, but I don't believe that applies to the majority. I can't imagine too many people played Kane and Lynch 2: Dog Days several times over, but hey, I could be wrong.
Various Bugs/Glitches
Spec Ops: The Line gives off glimpses of real beauty, but that is usually quickly marred by various glitches. Textures can take a while to load, leaving the characters and other images on-screen looking jagged and bland. Animations also suffer from random issues that take away from the characters' realism. At one point, audio briefly cut in and out during a cutscene. It is worth noting that I was unable to recreate the problem a second time. The game did not receive enough polish, even after being delayed from its original 2011 release date, and it shows.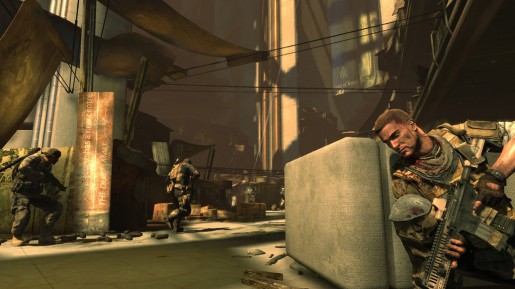 Verdict
Spec Ops: The Line crafts a compelling Heart of Darkness and Apocalypse Now inspired story, one that will stick with players, even if it all ends a bit too soon. Poor AI and other glitches can somewhat hinder the overall single player experience, but in between these issues lies potential. The sand mechanics and twisted military tale are worth experiencing, but maybe not at the $60 price tag for some. Although, if you're a multiplayer nut, there's definitely enough content to unlock and play around with to keep you busy for the foreseeable future. In the end, Spec Ops: The Line's dark narrative is what stands above all else (the competitive modes come in a close second), even if it wraps up rather quickly, and marks a bold new step for the series.
[
Editor's Note
: Spec Ops: The Line was reviewed on the PlayStation 3 platform. The game was provided to us by the publisher for review purposes.]
Page 1 2
Spec Ops: The Line Review

,