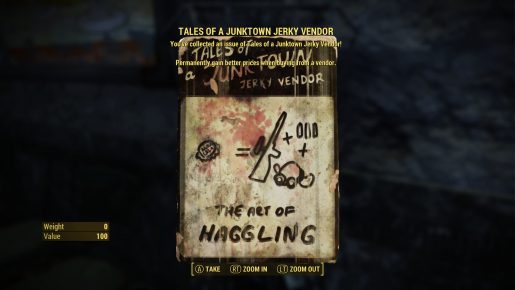 For gamers who are looking to get more perks for their character in Fallout 4, there's this one magazine that you have to collect and it's the Tales of a Junktown Jerky Vendor.
There are a total of eight issues of Tales of a Junktown Jerky Vendor magazines. If you are looking to get perks like getting a good price from the vendor, definitely consider collecting all eight issues.
Tales of a Junktown Jerky Vendor
1. Super Duper Mart
Look for a Milton General Hospital poster on the wall in the northwestern side of the mart. Beside it is a magazine rack that has the first issue.
2. Longneck Lokowski's Cannery
Located on the metal catwalk hut. It's in the northwest upper area of the cannery room.
3. Walden Pond
Found on the barrel with a lantern on it. It's inside the pipe tunnel.
4. Gwinett Brewery
Climb the pipes and reach the catwalk metal hut.
5. Wreck of the FMS Northern Star
It's on the upper level. Look on top of the parasol table.
6. Four Leaf Fishpacking Plant
Inside the basement locker room.
7. Mystic Pines
Look for the magazine on the sideboard table by the TV.
8. Big John's Salvage
Found on the small table with the lantern.
—
Check out our Fallout 4 Guide page!
Here's our Fallout 4 Review!