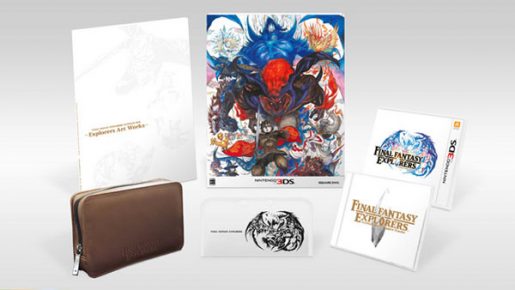 Square Enix revealed today via Famitsu that Final Fantasy Explorers for the Nintendo 3DS will ship in both standard and limited editions when it launches in Japan on December 18th.
The limited edition for Final Fantasy Explorers is called Ultimate Box and will cost 13,000 yen before tax. The Ultimate Box limited edition will include the following goodies:
A copy of the game with the first-print run bonuses. (See below.)
Final Fantasy Explorers Ultimate Box Nintendo 3DS XL Body Original Cover – A hard cover with the Final Fantasy Explorers logo and illustration designed by Yoshitaka Amano.
Final Fantasy Explorers Ultimate Box Suppin Tracks – A mini-album containing the early development demo-takes that led to the in-game BGMs (main theme, city, boss battles), and a booklet containing composer Tsuyoshi Sekito's development story.
Final Fantasy Explorers Ultimate Box Explorers Art Works – A book containing the illustrations and art of Yoshitaka Amano, as well as key art by Toshiyuki Itahana, summons beast art by Gen Kobayashi, as well as artwork of the game's jobs, locations, equipment, etc.
Final Fantasy Explorers Ultimate Box Multi-Pouch – A faux leather brown multi-pouch stamped with a Bahamut silhouette, a red interior, and silver "FFEX" branded zipper.
In addition, all first print run copies of the game will include a downloadable voucher code for an original quest to obtain the "Onion Knight" equipment from Final Fantasy III.
Loppi and HMV buyers will also get an original quest to gather the materials required to obtain the "Chocobo Hammer" weapon.
Unfortunately, Final Fantasy Explorers is currently exclusive to Japan (for now). Let's hope Square Enix will release it here in North America.