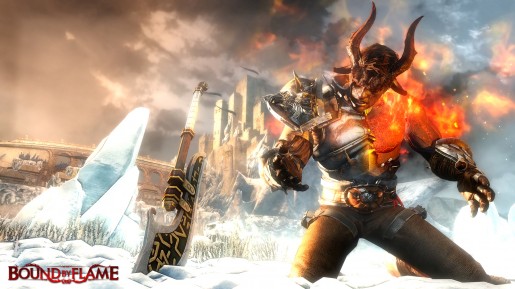 As with most RPGs, Bound By Flame has a companion/relationship system. There are a handful of varied fighters Vulcan will come across during this adventure, each with their own abilities and traits. One of the first companions met is Sybil, a mild-mannered healer that can provide health during crucial moments in battle. On the opposite end you have Edwyn, a scantily clad, cynical witch who uses destructive magic to annihilate the opposition from a distance. Even though you can choose from mages, rangers and sword-wielding tanks, I found all of them to be easily felled by the game's most basic enemies, leaving Vulcan to fight through the remaining hordes solo until the battle was over and the companion regained consciousness. So you won't be picking a companion based on their combat expertise. Instead, I looked to Sybil for her healing powers. She's a great alternative to wasting resources on crafting potions. Why are you in need of constant health? The game wants to come across as difficult and punishing, a la Dark Souls, but the combat isn't refined enough to provide that type of enjoyable challenge.
Backing up a bit, let's discuss the crafting and customization aspects of Bound By Flame. While simplistic, these areas of the game stand above the rest. Materials gained through exploration can be used to craft health potions, traps, crossbow bolts and helpful items of the like. These gathered materials can also be put toward your weapons, physically altering their appearance with new blades and hilts as well as changing up their stats. Poison effects, critical hit chance increases, speed and more can all be fine tuned to your liking. I found the most enjoyable portion of the game to be custom crafting my two-handed arsenal, giving myself a wide array of options when facing off with new enemies. And grabbing some new, shiny armor before venturing out to new lands always brought a little satisfaction.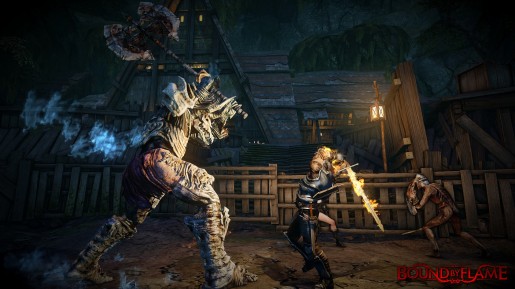 The areas that Vulcan explores are rather linear, but they do have paths leading off in various directions, promoting exploration. The environments manage to be varied and beautiful, a pleasant surprise given the rest of the game's shortcomings. I trudged through swamps, ancient temples, jungles and other fairly good-looking locales. It's a shame other areas of the Bound By Flame's presentation failed to shine in this way.
Bound By Flame is a game that seems to try and blend inspiration from games like Dark Souls, Dragon Age and Fable, but it falls short of achieving the greatness for which these franchises were known. It is no doubt Spiders' most ambitious title, but their transition from concept to product did not play out as I imagine they had hoped. The repetitive combat, useless companions, lackluster decisions and messy narrative all make for an RPG that doesn't do the genre justice. Instead, we have a mediocre action game with a solid yet simple crafting system and above average scenery. Bound By Flame could have been a memorable 2014 RPG, but its failure to fully realize its unique concepts will ensure that it is forgotten before the next major release.
[Editor's Note: Bound By Flame was reviewed on the PC. The game was provided to us by the publisher for review purposes.]
Bound By Flame Review

,