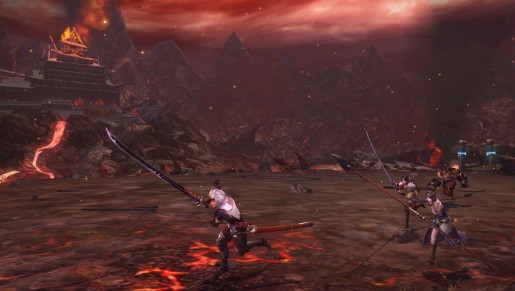 Taking down big Onis requires a lot of work and skill. Unlike Monster Hunter's simply hack and slash combat element, Toukiden adds flair to it by actually making it fancy and powerful. As you go through the missions, you will get what you call a Mitama, a spirit of the past heroes who have been devoured by Onis. With the Mitamas that you can collect, you can embed them to your weapon and unleash different skills. An example of this is through a certain Mitama I collected, where you can launch a powerful Fountain, which casts a thunder attack that will attack anyone around it. Since its an AOE attack, you will be damaging all limbs of the bosses. Between Monster Hunter and this game, I must say this is where Toukiden shines the most.
Remember all those limb parts and loots that you can get in Toukiden? Luckily, there will be a lot of armor that you can craft on this game. Based on what boss you have downed, you will be given an opportunity to get a specific armor made from them by having all the materials in hand. If you love these from the Monster Hunter games, you will certainly enjoy Toukiden as there are about fifty or so that you can collect, which means, be prepared to fight for bosses. Since getting materials are hard, expect to run through the bosses, areas, and taking down limbs several times.
In addition to single-player mode of the game, Toukiden also offers online and ad-hoc co-op. Since it's always good to play with real humans, up to four players can join in one mission. If you are to do a co-op, please note that you will need to be on the same phase they are in. Getting in the game is quite easy as you will just have to look for the lobbies that have an open spot. For those who wants to only play with friends, you can create a room and have a password for them to enter.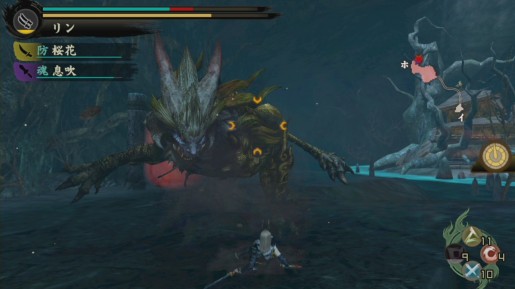 As soon as the online/adhoc play starts, it's the same concept. You do the missions with your friends and get loot. If you are worried about who gets the loot, you will be pleased to know that whatever loot the other one gets, you will get it too. If you are hunting for materials, it's best to spread around the map to increase the chances of getting almost all loots in every mission. Between playing by myself and with friends, I say that I find co-op to be a lot more fun, since it's hard to direct the AI on what to do and what limbs to dismember.
Talking about visuals, I must say that Toukiden exceeded my expectations. From the character and armor designs through to the monsters and landscapes, Toukiden shines in the visual department. The art is very colorful and it looks very good on the small screen of the PS Vita. Comparing Monster Hunter visuals which looks cartoony at most, Toukiden offers some sort of a realistic feel to it. If you have been playing your PS Vita, you will come to the conclusion that Toukiden may very well be the best looking PS Vita games to date.
Despite all of the talk about Toukiden: The Age of Demons being a clone to Monster Hunter games, I can't help but say that this is the fix fans have been looking for on the PlayStation platform. The way KOEI created Toukiden perfectly suits those PlayStation fans seeking a for fix of a Monster Hunter-like game on the PS Vita. The things they added to make it stand out shine brightly and that's what makes Toukiden great. Long story short, if you don't like Soul Sacrifice and are looking more of a Monster Hunter feel to it, Toukiden: The Age of Demons is the game that will not disappoint.
[Editor's Note: Toukiden: The Age of Demons was reviewed on the PS Vita platform. The game was provided to us by the publisher for review purposes.]
Toukiden: The Age of Demons Review

,