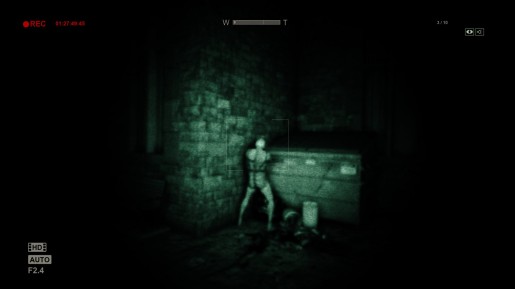 Your one saving grace in the game comes in the form of a camcorder. You can use the camcorder's zoom feature to check out distant objects, but far more importantly it has a night vision setting, allowing you to get a limited, green-tinted view of what's lurking in the shadows. Although you may find empty corners more often than not, the appearance of bright green eyes appearing while using night vision instills a level of fear rarely found in other games claiming to be a part of this genre. The camcorder can't be used indefinitely though, as batteries are required to keep it charged. You have to collect these precious gems, limited in quantity, hidden through each level. That's right, we're finally returning to a time where survival horror games enforced smart resource management and severely punished those who didn't plan ahead. Failing to stash enough can leave you wandering aimlessly in pitch black environments, making you even more susceptible to whatever is waiting just out of sight.
Sadly, Mount Massive Asylum's inhabitants are not the only troubling aspect of Outlast. While the game succeeds in most areas, it does fall victim to poor design choices that have plagued many other games. Outlast has excellent pacing throughout a majority of the campaign, which is why the "turn 3 valves"/"flip 2 switches" objectives feel out of place and forced in an otherwise outstanding game. Waiting for psychos to run their same routes so you can sneak by to activate an objective gets repetitive and ruins the flow. Furthermore, some of these situations can fall into trial and error territory, forcing you to reload and take another go. Outlast does best when the experience is fresh, unknown. So having to replay the same section as you learn what it is you have to do or which way you need to go can tarnish the view.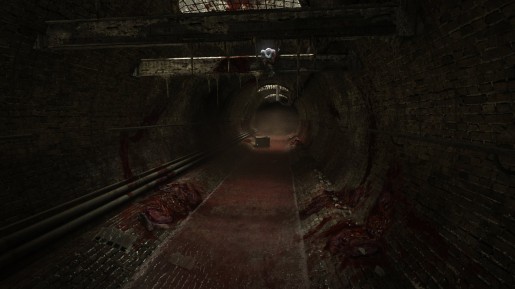 It is worth noting that repetition still presents itself outside of problem solving. Assuming your back isn't constantly sprinting away from every Variant, you'll soon notice that a lot of the character models are reused and not all that impressive. Contrasted with the stunning environments (well, the parts you CAN see), it is rather noticeable. By the end of the game, you'll have seen the same cut up, deformed inmate staring you in the face.
Outlast gives us faith in survival horror and, surprise, it took an indie dev to provide us with an exemplary experience. Outlast will have you on the edge of, and sometimes out of, your seat as you scramble to survive in the blood-soaked corridors filled with frightening hostiles. Fans of the genre cannot afford to pass on this game and even narrative-driven players will be drawn in by the gripping tale and disturbing documents detailing the events prior to Miles' arrival. Let this mark the day that we discovered that survival horror's heart is still beating in the form of Outlast, and it has made ours stop.
[Editor's Note: Outlast was reviewed on the PlayStation 4.]
Outlast (PS4) Review

,