GamePad Party is an option for smaller groups as they are limited to 2 players max. You do not even use the TV in this mode as every game is played on the GamePad. In this, each player grabs one side of the GamePad, held sideways, and can play a mix of games like Tabletop Foosball or Tabletop Baseball, the latter of which has me extremely addicted regardless of its simplicity. Mii-in-a-Row is a fun puzzle game that can be played against a friend or the computer. There are also a couple cooperative games in this mode, including Animal Matchup where you work with a partner in a matching game, with mini-games mixed in to help you get second chances. The majority of the games played exclusively with the GamePad are very simple, but a heck of a lot of fun due to easy to learn controls and interesting games.
While these are the three main options you can choose on the main menu, you also have the option to just play straight up mini-games. Within this section, there are multiple choices for you to choose from. You can just go and pick any game you want to play, or you can do some mini-game only competitions without the need for a board or anything. This may honestly be your best option for a party where you might have multiple people switching in and out. One is as simple as being the first to win a set number of mini-games while another requires everyone to work together to make it to the goal as a team.
Let's be honest, the mini-games are what everyone always remembered about the Mario Party series. The boards were fun, but the competition and fun mostly game from the assortment of games. Wii Party U is no slouch in this department as it boasts over 80 new mini-games, including both all play and 1 vs. 3 matchups. All play games use the Wii Remote only while the 1 vs. 3 games give the 1 the GamePad and the others a Wii Remote. There are the very simple games like Pogo Battle where the four player are put in a small circle on pogo sticks trying to bounce the others off, similar to something like Bumper Balls in Mario Party, while there are also more complex games like Lap Happy where you have to race in a swimming pool three times, with each using a different controller scheme to advance.
While I felt the first Wii Party was lacking a bit in the mini-game department, with too many seeming like either rehashes of Mario Party mini-games or just being boring, Wii Party U absolutely shines with their mini-games. There are numerous game modes of a high quality with so many different ranges of different mini-games you can come across. The 1 vs. 3 games are especially great with almost every single one being unique while also making very intriguing use of the GamePad.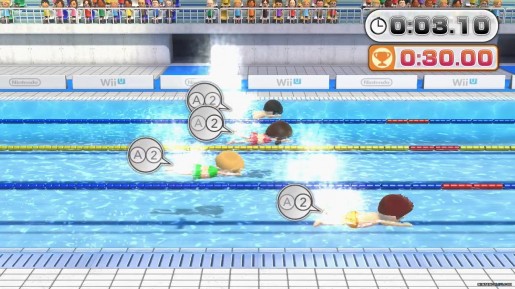 The one very disappointing aspect of Wii Party U is the lack of any type of online gameplay. Like with all Wii U games, you can post to the Miiverse directly from the game, but the game would have been taken to a whole new level if you could play the board game style games online with friends or random strangers. Playing against the computer in a game like this can get boring very quickly, so at least knowing the opponent on the other end isn't just AI can make the game that much better. If they were worried about the length of making online play a problem, they could have just added a random mini-game mode where you get matched up with someone to play a random mini-game or two.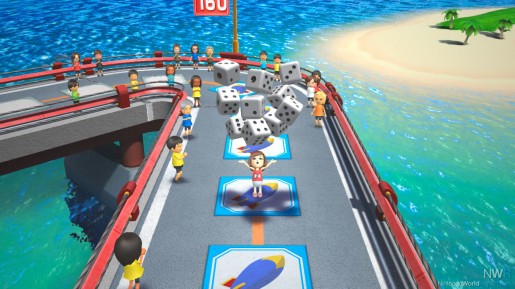 The Wii U launched last year with Nintendo Land, which was a very fun party game, but the amount of actual games in it made it hard to constantly play with friends without it getting stale. Wii Party U is the perfect replacement for Wii U owners. The game provides an abundance of game modes, some long and some short, that can cater to a number of different occasions.
Whether you are looking for a long round on GamePad Island or just want to have a little mini-game competition with friends for about 10 minutes, Wii Party U is the ultimate party game to play with your friends or family when you are looking for some multiplayer action. The $49.99 game even comes with a Wii Remote Plus included in the packaging, which is normally $39.99 on its own, which makes this game one heck of a bargain. Some of the modes may not have a lot of depth and the lack of online play is extremely disappointing, but if you are a fan of the Mario Party series or the first Wii Party, or even just have a Wii U and hang out with group of friends to play games often, this is a must have for your collection.
[Editor's Note: Wii Party U was reviewed on the Wii U platform. The game was provided to us by the publisher for review purposes.]
Wii Party U Review

,