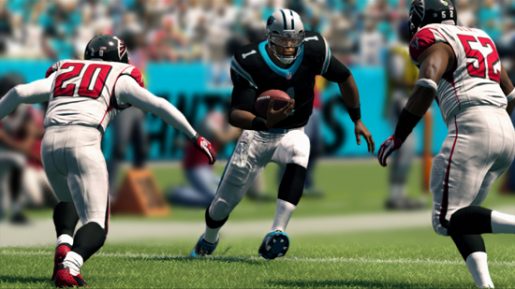 Connected Franchise Mode
Connected Careers are nothing new to the Madden series as we've had many different versions over the years. At the start of the mode, you get the option to choose whether you want to be a player, coach or owner. Player Mode is pretty basic as you can choose to either create a new player, by making him in game or importing your EA Sports Game Face, choosing an active player in the NFL, or choosing an NFL Legend. Coach Mode takes it a step further by allowing you to create your own coach, letting you choose from any coach currently in the NFL, or choose from a group of legendary coaches from the past. You are able to manage the team, while also playing the full games by controlling the full offense and defense, like what just plain Franchise Mode used to be in the past. While these two modes have been in many past games, they are a ton of fun and will keep you busy for a long time.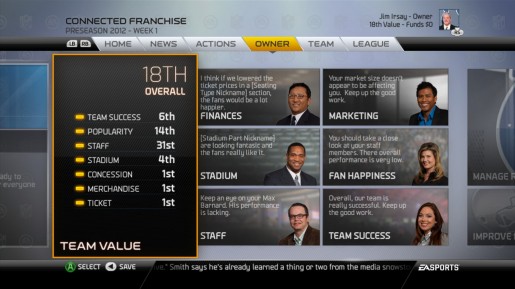 Owner Mode
While it is part of the Connected Franchise mode discussed in the last section, this needed to be discussed separately because it adds entirely new elements separate from the Player Mode and Coach Mode. The brand new addition in Madden 25 is the return of Owner Mode for the first time since the last generation version of Madden. Owner Mode gives you full control of the team of your choice. Just like the others, you have the option to create an owner, choose an active owner, or choose a legendary owner. Sadly, there are only two legendary owner options, and both are only available with pre-order codes from specific retailers. Hopefully these will be available for purchase in the game sooner rather than later for those looking to start one soon and would like to choose one of the legends. In Owner Mode, you also get to make decisions like in Coach Mode, such as signing players, while also playing both offense and defense. However, you also get to also utilize your entrepreneur skills by choosing how to run the team fiscally. You can choose to make changes to smaller parts like the merchandise and concessions in your stadium, or more extreme measures such as to upgrade or rebuild the team's stadium, or even relocate the team elsewhere. If you want to experience every level of the NFL team experience, this is the mode that you must check out. I know I will be spending way too much time with Owner Mode this year.
NOT
Messy Home Screen
For whatever reason, it seems like sports game like to shake up the home screen every year, and sometimes it just does not work out. Madden 25's home screen isn't terrible, but it's just a little too messy. When playing a game like Madden, the first option you should have on your screen as soon as you turn the game on is to be able to Play Now. Instead, they chose to go with Continue Playing which is your three most recent game modes played. You must move over a screen to get to the Play area which has all of the options such as Connected Franchise, Ultimate Team, Online Head to Head, and Play Now. The look of the game menu would have been more effective if these four were on the first screen you see, while having a small area for recently played modes. You want to have your most attractive modes to be the first thing you see when the game loads, and that is not the case in Madden 25.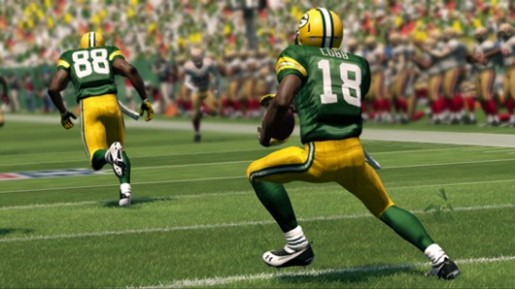 Much Harder to Play Defense
It's hard for me to count this as a negative thing as I'm a big offensive guy when it comes to football games, but the new running aspects in Madden 25 definitely make it much harder to play defense. Passing was already very prevalent when playing past iterations, but now you can dominate with the pass and run on a very consistent basis. Every game I've played so far was a high scoring affair and I'm not really sure what much more I could have done to prevent it. The blocking schemes with the run game, as well as kickoffs, are greatly enhanced from previous years. A couple games I played were against the Detroit Lions, who only have a rating of 76, but still had no trouble running the ball on the outside because of amazing blocking. However, like I said, it is hard for me to have too much problem with it because it was so satisfying to get that great blocking when running with Beast Mode Marshawn Lynch all the time.
VERDICT
So many people try to say that each new Madden is just an annual roster update, but this year's edition proves that is so far from the truth. Building on the excellent release last year, Madden 25 takes it even further, especially with gameplay. EA stepped up their game with the run this edition as it allows for the most consistent and realistic controlling of a running back I've ever played in a football game. I've been playing the series since the early 2000's and there is no doubt in my mind that this is the best iteration I've played in the series so far. With the fantastic mix of gameplay changes and Connected Franchises, I know this game will be constantly in my console over the next year. Obviously, if you don't enjoy sports games or football in general, this game likely won't change your mind, but if you have even a hint of interest it is very worth giving a chance. This game is the pinnacle of Madden on the current generation of consoles with the smoothest gameplay by far. Madden 25 is available now for Xbox 360 and Playstation 3.
[Editor's Note: Madden 25 was reviewed on the Xbox 360 platform. The game was provided to us by the publisher for review purposes.]
Madden NFL 25 (Xbox 360) Review

,