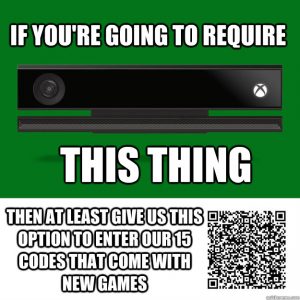 Redeem codes can be annoying to type in especially if they're 25 digits long. You may not have to do that anymore thanks to Xbox One Kinect.
Corporate Vice President of Xbox Marc Whitten announced the following on twitter:
"To my reddit friends — yup — this works!"
He was referring to the image above (from reddit) that now lets you to scan codes with the Kinect. This is a similar feature that people use with their smartphones.
This is good news for people that hate typing out long 25 digit codes. I personally hate long codes as well because there have been times I've mistaken the letter "B" for the numeral "8" sometimes…