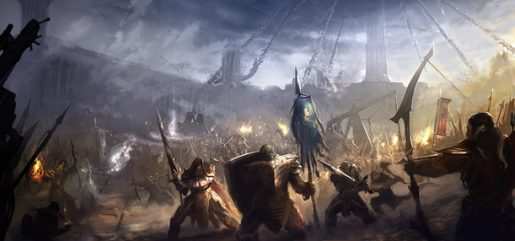 If there's one game series that has a complex and expansive story, that would be the Elder Scrolls. With the Elder Scrolls Online coming out sometime this year, Bethesda released a video today that will explain the story behind the much anticipated MMO.
As we all know, The Elder Scrolls Online will take place in the land of Tamriel where places and continents of previous Elder Scrolls games will be together as one. In the upcoming MMO, three factions are at war: the Aldemeri Dominion, Daggerfall Covenant and the Ebonheart Pact. Now the question is, how did these three faction get into a big war with one another?
In The Elder Scrolls Online, the Aldmeri Dominion, Daggerfall Covenant, and Ebonheart Pact are embroiled in a full-scale war, but that was not always the case. What led each alliance to feel that war was the only option? What are their reasons and motives for fighting? Who are the key people and groups involved? In our latest developer video, "Alliances at War", Loremaster Lawrence Schick answers these questions and more.
Here's the video that you can watch and find out!