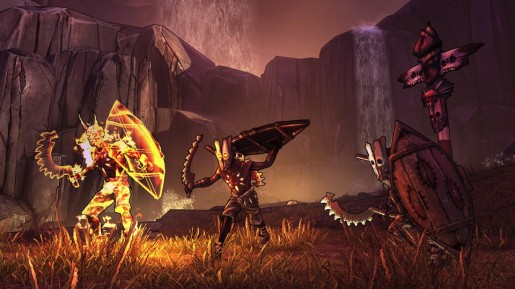 In addition to Voracidous, Sir Hammerlock's Big Game Hunt also features a hidden raid boss called Dexiduous the Invincible. Similar to the extremely unpopular raid boss Master Gee, Dexiduous is a gimmicky fight that requires actual "strategy" to win. To kill Dexiduous the Invincible; you need to shoot these yellow spots that will randomly appear on his body. You can go about doing this however you like, but the fight will take you hours if you don't aim for these locations. This small element makes him a more rewarding fight than Voracidous, though he is too much of a hassle to fight more than a few times.
How About we FIX Some Problems!
So far the DLC adventures have been interesting, but they haven't added much to the core experience or resolved any of the issues with Borderlands 2. First off, eridium still has no use past summoning raid bosses. The only difference is that someone thought it should cost roughly 96 (99 is the max…) eridium to summon Dexiduous, who isn't a "seraph guardian" (meaning he doesn't drop seraph crystals) and will maybe give you 10 eridium back. Someone also decided to make most of the new weapons rare or at the very least uncommon drops from specific bosses. Even if the DLC adds a new weapon you want, it cab be quite a hassle to obtain it. The worst offender is Omnd-Omnd-Ohk, who is a rare boss that works similar to Vermivorous and drops the twister. Beyond this, nothing important was added, so skill points, ammo capacity, inventory/bank space and the like remain unchanged.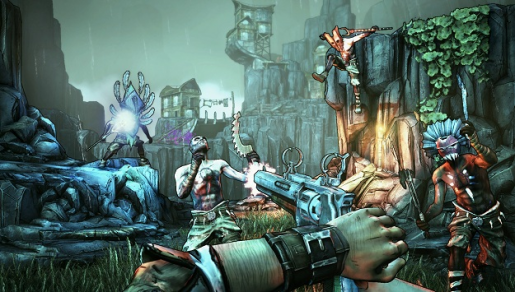 Is there Really a Story?
If you're expecting a story from Sir Hammerlock's Big Game Hunt, then prepare to be disappointed. The DLC starts with you meeting with Sir Hammerlock to hunt some enemies, but quickly changes directions when the evil Professor Nakayama appears. He is obsessed with Handsome Jack and you must stop him from bringing Jack back. The only problem is, the story is too short to really give a damn.
The story is only five missions long and will most likely take you just an hour to complete. As you might already suspect, Professor Nakayama isn't really fleshed out in this time, nor is even portrayed as a likeable character (I actually liked Shade more). By the time you actually stop his plans, you will be more surprised that the DLC is over than anything else. Needless to say, they really could have done a much better job with this one, since the story had potential.
VERDICT
Unlike Captain Scarlett and Mister Torgue, I don't get the impression that a lot of effort was put into Sir Hammerlock's Big Game Hunt. Only two new characters are added, but neither of them get a lot of screen time and I would be shocked if they had a combined total of 40 lines of dialog. Really nothing about this DLC screams "buy me", since the raid bosses could be better, the new weapons don't replace the old over powered ones and nothing of importance is added. Hopefully this will change with the last DLC, because some things really need to change.
[Editor's Note: Borderlands 2 – Sir Hammerlock's Big Game Hunt was reviewed on the Xbox 360. The game was provided to us by the publisher for review purposes.
Borderlands 2 - Sir Hammerlock's Big Game Hunt Review

,