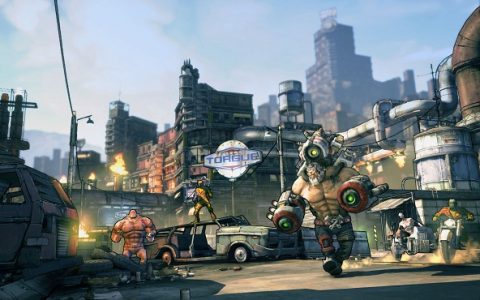 NOT
Nothing-Game Changing
Similar to Captain Scarlett there isn't anything game changing in this DLC pack. Most of the new items require seraph to buy and won't be useful to most people. To give you an idea, the new seraph relic is "Might of the Seraphs" and it gives roughly 30% override cool down/melee damage. This is certainly awesome if you use both of those things, but your average Borderlands 2 gamer does not. There are also quest reward guns, plus a new head for every class, so there are at least things to find too.
Useless Currency
Following in the footsteps of Eridum and Seraph, we have the latest useless currency known as Torgue Tokens. These tokens can be obtained by killing story bosses, completing certain missing and rarely as a drop, so they're not impossible to obtain. You can use these tokens in the Torgue vending machine for a head item (35 tokens), generic Torgue gun (80 – 200 tokens) or spend a bundle (600+) on a legendary Torgue weapon. However, legendary Torgue guns are among the least popular in the game. The only exception is the infamous Nukem, although that's mostly due to the Duke Nukem reference. Thankfully Mister Torgue adds new uses for seraph crystals, but eridum is still only used to summon raid bosses.
1 (?) Raid Boss?
If you're looking forward to killing the next set of impossible bosses, then you might be in for a disappointment. As far as I can tell, Mister Torgue's Campaign of Carnage only has 1 raid boss; 2 if you count the story boss. The only person with the actual "invincible" title is Pyro Pete, who is just an upgraded version of one of the story bosses. However, this is one of the easiest/cheapest fights in the game.
The difficulty comes from his unavoidable AOE attack, which is similar to Hyperius, but with the added bonus of element damage. Sadly you will get hit with 2 types, so don't expect resistance to save you, but you can rinse yourself off with water (via a switch/pipe). This will spawn various enemies to assist him, although you should be able to handle him till he does the AOE again. Needless to say, all his difficulty comes from the AOE, so don't expect a really hard battle. Killing him will reward you with Seraph crystals, which might be the only source for this DLC pack. Additionally he has a 24 hour lock, so you have to yet again mess with your clock to farm him efficiently.
VERDICT
While Mister Torgue's Campaign of Carnage might not be perfect, it has more than enough content to justify buying it. The story is pretty lengthy and incredibly funny, so you're sure to get some enjoyment out of it. While the DLC doesn't add anything innovative to the world of Pandora, it at least offers roughly 6 hours of quests to pass the time. In the end, unless you're looking for more guns or some sort of stat boost, you'll have a blast kicking ass and taking names!
[Editor's Note: Borderlands 2 Mister Torgues Campaign of Carnage was reviewed on the Xbox 360 platform. The game was provided to us by the developer for the purpose of the review.]
Borderlands 2 - Mister Torgue's Campaign of Carnage Review

,