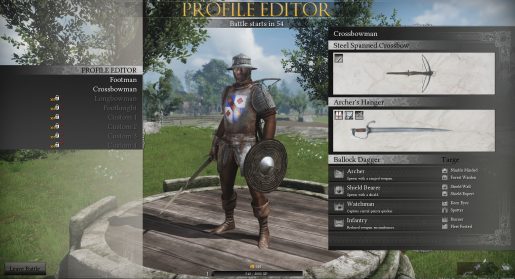 Levelling System
Each player starts off with one simple class, a soldier with a standard set of perks equipped with a sword and shield. After playing a handful of games, evening if you play poorly, you should have enough xp to access the 3 other classes. These include an archer, crossbowman and of course the knight. From here players must earn XP to unlock create-a-classes to build their own personal soldiers. The original 4 classes cannot be tweaked or changed, so the custom classes, of which you get 4, are the player's way of creating their perfect warrior. Through playing you gain both XP and gold coins. The XP unlocks items and makes them available for purchase via the gold coins. The levels of customisation is impressive for instance archers have 3 types of bow to choose from but then can also pick different archer perks, arrow types and then arrow perks; the most handy being double quiver.
The levelling system means that there is something to work and aim for as you strive to build the perfect solider to devastate the enemy forces. Following on from that not only does the customisation mean that every player will have a unique experience, but that they can tweak their characters to fit their play style thus getting the most out of their War of the Roses experience.
NOTs
Steep Learning Curve
One of the nicer features of War of the Roses, is also the hardest to get used to. The hit boxes in the game are incredible; firing arrows millimetres away from teammates to hit enemies is fine due to the hit boxes being perfectly sized. However, this does mean that at the start players will have to get used to the otherwise small hit boxes; accompanying this with the arrows trajectory a new player may get frustrated, as their arrows don't get close to harming the enemies.
Hand to hand combat is also something to get used to. Whilst spamming will be occasionally be successful, most times timing is key to getting the kill. Swing too early and you leave yourself wide open for a counter attack; swing too late and the enemy may have already finished you off. This learning curve could potentially put some off the game, but those that give the game an hour to understand the mechanics will inevitably enjoy them, as it gives War of the Roses an overall more realistic feel.
Servers
Since launch there have been issues with the servers and despite many improvements some players are still finding it hard to get into and stay in a match. The team at Fatshark and Paradox are working on fixing issues with updates constantly coming out so many of the original issues are gone. I'm confident that soon this will not be a problem at all unless you join a server that is for a different region and then truly it is not the developers fault.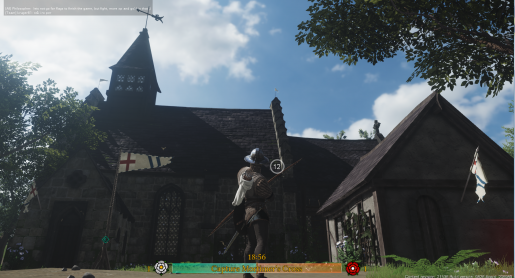 No Singleplayer Campaign
War of the Roses is mostly an online game. It does have an offline training mode, which will help new players with the learning curve if they don't want to jump straight in online, though not having a campaign of any sort is surprising. Trying to win the war as the house of York or Lancaster would have been an interesting experience and one I'm sure many would have played so it is a shame a campaign didn't make it into the game as it would have added another way to enjoy War of the Roses.
Verdict
War of the Roses is an enjoyable game to play. Once you are past the initial learning curve and have started to make custom classes, the game truly picks up. As teamwork is important in the game and the fact War of the Roses isn't the easiest game to master, results in that full accomplishment feeling when you have helped your team to victory. There are still some server issues, but they have already been significantly reduced since launch and I can only see this getting better. War of the Roses does manage to be fun and hard at the same time, which is something other titles fail at. Due to this, whether you are a fan of the Mount and Blade franchise or not, it is worth playing.
[Editor's Note: War of the Roses was reviewed on the PC. The game was provided to us by the publisher for review purposes.]
War Of The Roses Review

,