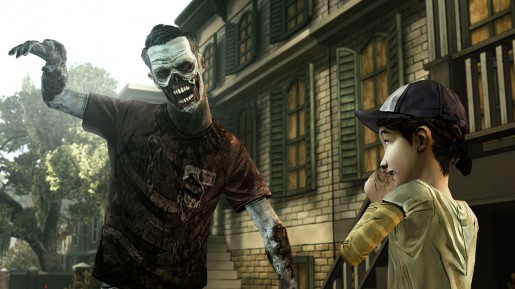 Visuals Continue To Deliver That Comic Book Feel
The great visuals have not changed one bit since the last episode and continue to give you that painted graphic comic book feel. It continues to draw you into the experience and make you feel like you are controlling the contents of a comic book rather than playing a downloadable title. The graphics are dark, gritty and fit perfectly with the narrative of this episode.
NOT
Minor Bugs Can Be Found
As with previous entries in this series, Around Every Corner has a few instances where graphical and sound bugs will occur. The lip synching is occasionally off and every once and awhile you will see a floating object during the cutscenes. Thankfully these are few and far between so when they happen you will barely notice them if you do at all.
Verdict
Episode 4 of The Walking Dead: The Game does not disappoint when it comes to delivering on the story front. It once again gives players an excellent and well told narrative through the use of great voice work and visuals that set up the tone well. While there are minor bugs present in this episode, they won't take you out of the experience or keep you from wanting more once you hit the shocking finale of this episode. Those who own the season pass for this game will continued to be satisfied with what Telltale is bringing to the table.
[Editor's Note: The Walking Dead: The Game – Episode 4: Around Every Corner was reviewed on the PlayStation 3 platform. The game was provided to us by the publisher for review purposes.]
The Walking Dead: The Game - Episode 4: Around Every Corner Review

,